14
Nov
My5 - Week 1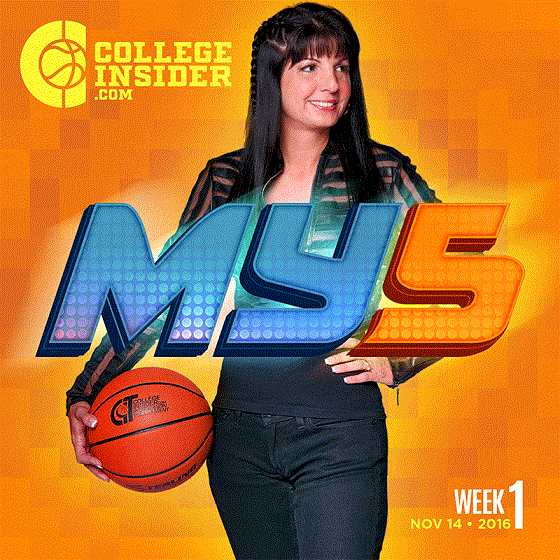 Joe Cremo (Albany): Last season Cremo scored over 20 points just once. He opened this season with 22 points in an upset win on the road at Penn State. The 6-foot-4 sophomore was 8-for-14 from the field and helped the 'Danes build a 16-point halftime lead. He also had 10 rebounds and five assists in the victory. With his top three scorers lost to graduation, head coach Will Brown will count on Cremo to step up his game.
Malcolm Drumwright (Jacksonville State): The Gamecocks haven't had a lot of big wins over the past few years so a season-opening road win at Tulsa is notable. The 6-foot-2 Drumright helped lead the way with 20 points and six assists. The win snapped an eight-game losing streak, dating back to last season, and it was the first season-opening victory over a division I opponent since 2003.
DeAndre Harris (Nicholls State): Just up the road from the College Insider offices, Nicholls State turned in one of the more surprising results of the opening weekend, knocking off Boston College in Chestnut Hill, MA. In his first game with the Colonels, Harris dropped 28 points on the Eagles. The 6-foot-3 graduate transfer from North Texas was 10-for-20 from the field and added seven rebounds, four assists and four steals.
Don MuepoKelly (South Alabama): The Jaguars led by four at halftime and never trailed in the second half of their road win over UNLV. MuepoKelly posted his second career double-double to lead the way. He finished with a career-high 18 points and 10 rebounds and eight of his ten rebounds were on the offensive glass. The 6-foot-7 senior also had four blocks and two steals.
Justin Tuoyo (Chattanooga): One of the top defensive players in the country, showed off his offensive game with a career-high 22 points in the Mocs win at Tennessee. The 6-foot-10 senior, who was named to the Lefty Driesell Defensive All-American team in each of the past two seasons, also contributed with 11 rebounds and a pair of blocked shots against the Vols.