21
Nov
My5 - Week 2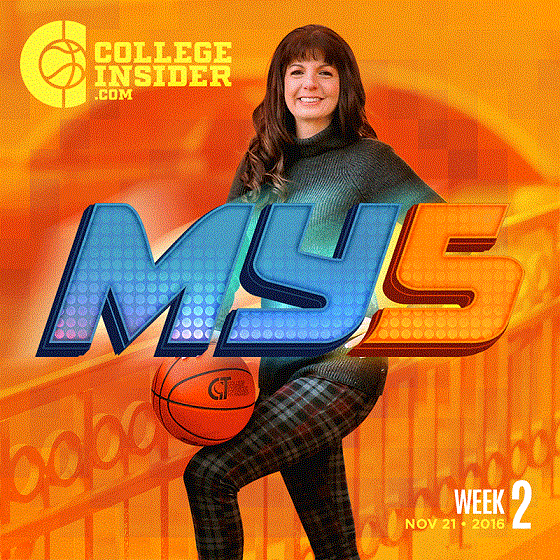 Devin Carter (Arkansas State): The 6-foot-4 senior helped ASU to its first preseason tournament title since 1997, as the Red Wolves captured the Maui Jim Maui Invitational Mainland tourney. ASU went 4-0 in the event, which included wins over Georgetown and Chattanooga. Carter finished with 25 points, on 10-for-15 shooting, against the Hoyas. He followed that up with 16 points and seven rebounds against the Mocs. The Red Wolves were picked to finish 10th in the Sun Belt preseason poll.
Jerome Frink (LIU Brooklyn): With his team down one with 45 seconds remaining, the 6-foot-7 senior hit a three and the Blackbirds never trailed again. He finished with 11 points and 10 rebounds for his second double-double of the season. Earlier in the week Frink had a team-high 16 points and game-high seven rebounds in a win over Loyola MD. The redshirt senior, who played began his career at FIU, was an unheralded contributor last season, averaging over 16 points and nine rebounds per game.
Martez Harrison (UMKC): He didn't have the big season many expected in 2015-16, but 5-foot-11 senior looks like he wants to close his career out in style. Harrison helped the Roos to wins over Drake, Bowling Green and Murray State last week. Following a 22-point effort against Drake, Harrison beat BGSU with a floater in the lane with 2.2 seconds remaining. He finished with 23 points. On Sunday he had 16 points, four assists, four rebounds and three steals against the Racers. He can play!
Jairus Lyles (UMBC):
He's been one of the key reasons UMBC is off to its best start in 16 years. The 6-foot-2 junior, who was highlighted in the latest
OFF THE BOUNCE
video feature, opened the week with 24 points and seven rebounds against Delaware State. Three days later he had a career-best 29 against Kennesaw State. He was 11-for-19 from the field and 6-of-6 from the free throw line. He also had three rebounds, three assists and two steals. He's a dynamic offensive player.
Tyler Nelson (Fairfield): The Stags are 3-0 for the first time in 21 years, with a big thanks to Nelson. The team's leading scorer, with 21 points per game, had a career-high 28 points against Dartmouth. The 6-foot-3 junior was 10-for-14 from the field. On Saturday he finished with a game-high 23 points to help the Stags overcome a double-digit deficit to beat Wagner in OT. He was 10-for-11 from the free throw line and his two shots from the stripe, with 9 seconds left, sealed the victory. What a terrific player!