28
Nov
My5 - Week 3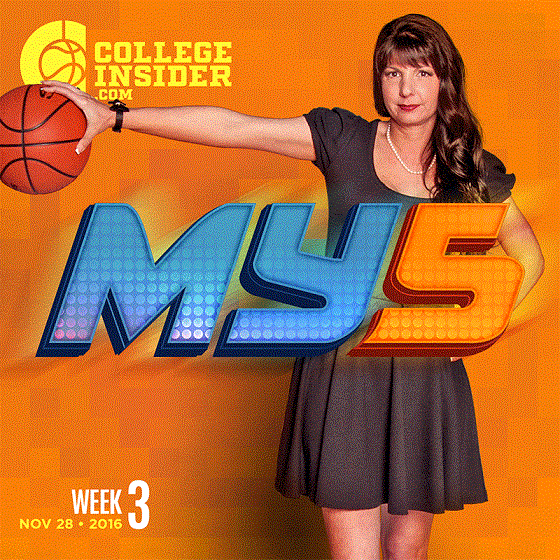 Montell Goodwin (Eastern Illinois): Last week against Troy, Goodwin went to the free throw line for the first time with 15 seconds remaining in the game where he calmly knocked down a pair to break the tie. He finished with 12 points, four rebounds, two assists and two steals. On Saturday the 6-foot-2 junior helped the Panthers hand South Alabama its first loss of the season. Goodwin finished with 14 points and six rebounds. After a tough 2015-16 season, these are two very big wins for Jay Spoonhour's team
John Konchar (Fort Wayne): Teammate Bryson Scott earned Lou Henson National Player of the Week honors, but the Mastodons don't upset Indiana without the effort from Konchar. The 6-foot-5 sophomore played all 45 minutes of the overtime win over the No. 3 Hoosiers. He finished with 15 points, 11 rebounds and five assists. He closed out the week with 13 points, four rebounds and four assists against Mississippi Valley State. He can play!
Keon Johnson (Winthrop):
The 5-foot-7 senior had a monster game at Illinois last week. After missing the Eagles game against Florida State with a foot injury, Johnson played 40 minutes and dropped a career-best 38 on the Illini. And it wasn't a volume shooting performance. Johnson was 15-for-21 from the field and 4-for-7 from beyond the arc. He also had six rebounds and three assists in what was a spectacular performance.
I had to feature his effort in the latest "Off the Bounce
."
Jalen Jones (UT Arlington): After starting the season 1-3, the Mavericks have run off three straight wins and Jones has been right in the middle of it all. The 6-foot-2 senior helped hand Fordham its first home loss of the season. His three, with 20 seconds remaining, gave the Mavs the lead for good. Jones finished with 12 points and six rebounds. Huge road win for Scott Cross' team. Earlier in the week he had a team-high 18 points and seven rebounds against Mount St. Mary's. Senior leadership!
Brandon Randolph (Utah Valley):
The Xavier transfer came within one rebound of a triple-double on the road against BYU. Randolph finished with 21 points, 14 assists and nine rebounds in the 114-111 win over the Cougars. Don't dismiss how big of win this is for the Wolverines, against their in-state rivals. The victory helped propel Utah Valley
into the Mid-Major Top 25 for the first time in school history
. Keep an eye on Randolph and company this season in the WAC. He can play and they can play.