05
Dec
My5 - Week 4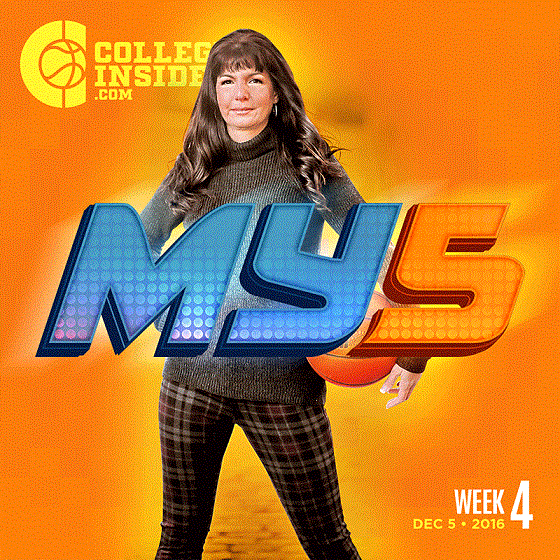 Calvin Hermanson (Saint Mary's): The Gaels have one of the best starting fives in America, which includes the 6-foot-6 junior. Hermanson, who is averaging 15 points and three rebounds per game, posted a career-high 25 points last week at Stanford. He also matched his season-best with five rebounds in the win over the Cardinal. Saint Mary's, which remains No. 2 in the Mid-Major Top 25, moved up to No. 11 in the USA Coaches poll. That's the highest ever ranking for the program.
Marcus Keene (Central Michigan): Two years ago Keene averaged 16 points per game. Fast forward and we find the Youngstown State transfer leading the nation in scoring with just over 30 points per contest. Last Tuesday the 5-foot-9 junior had 36 in a win over William & Mary. He shot 57% from the field, was 5-for-11 from beyond the arc and also had five assists. On Saturday he had 31 points and five rebounds against Arkansas-Pine Bluff. He was 8-for-14 from three-point range.
Drew McDonald (Northern Kentucky): The Norse are going to be a major factor in the Horizon League this season and McDonald is a big reason why. The 6-foot-7 sophomore has doubled his point-per-game average this season. He's averaging over 20 points and nearly nine rebounds per game. Last week he had a career-best 32 points in a win at Morehead State. McDonald was 12-for-14 from the field and pulled down 11 rebounds. He also had 18 points and seven rebounds at Norfolk State.
Matt Morgan (Cornell): The 6-foot-3 sophomore is one of the best-kept secrets in College Basketball -- He can really play. After averaging 19 points as a freshman, Morgan has picked up right where he left off with 19 points per contest through the first few weeks of the season. Last week he had a career-high 34 points to help the Big Red get a big win over Northeastern. He was 11-for-18 from the field and 7-for-13 from beyond the arc. The folks in Ithaca, NY have a good one.
Alec Peters (Valparaiso): The All-American played just one game last week, but it was a big one. Led by Peters' 27 points and nine rebounds, the Crusaders knocked off No. 21 Rhode Island. With the game still very much in doubt, Peters scored on three straight possessions in the closing moments and his effort on defense sealed the victory. With two seconds left, the 6-foot-9 senior got a piece of a potential game-tying three-point shot. I recently heard someone say that Peters' is playing like an All-American. Actually he "is" an All-American.