12
Dec
My5 - Week 5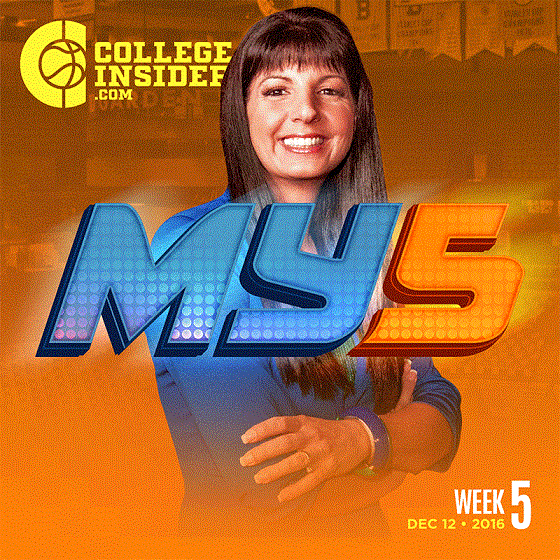 Shawn Anderson (Navy): Last week was a pretty big week for the Navy basketball program and Anderson did his part. On Tuesday Navy rallied from 25 down, at halftime, to beat Bryant. It was the biggest halftime deficit overcome by the Midshipmen and the second biggest halftime comeback in NCAA history. Anderson's layup, with 13 seconds remaining, was the difference. The 6-foot-4 junior finished with nine points and eight rebounds. Three days later he had 21 points and five boards in a win over Columbia.
Jimmy Hall (Kent State): The Golden Flashes have been playing much better of late and a big reason is the big minutes from their big guy. The 6-foot-8 senior is averaging nearly 20 and 10 every night (19.4 ppg and 10.5 rpg). Last Wednesday, despite foul trouble, he posted 20 points and nine rebounds in 19 minutes against Niagara. Three days later he had 26 points, 10 rebounds and four assists against NJIT. Kent State has won three straight.
Denzel Ingram (UNCW): If Ingram played at Chapel Hill, he would be tabbed as one of the biggest clutch shooters in America. When the game is in the balance, the 6-foot senior channels his inner Jimmy Chitwood -- "I'll make it." On Saturday, St. Bonaventure's furious rally put the Seahawks down one in the closing seconds. Head coach Kevin Keatts (Norman Dale) called Ingram's number and his step-back jumper, with two ticks on the clock, was the difference. He finished with 19 points and five assists.
Divine Myles (Stetson): The 5-foot-11 junior had a pretty good week, helping the Hatters to a pair of wins. On Wednesday he was 8-for-12 from the field and finished with 23 points and 14 rebounds. Both were both career-highs. Three days later he matched his career-best in scoring with another 23-point performance against South Alabama. He's averaging 16 points, five rebounds and four assists per game. Keep an eye on Myles, sophomore Derrick Newton and Stetson. The Hatters are pretty good.
Jalen Smith (New Hampshire): The 6-foot-4 senior has scored 20 or more in five of his last six games, including twice last week. Smith had 20 points, six assists and three blocked shots in a road win over American. For an encore he posted a career-best 28 points in a win at Bryant. Smith was 8-for-11 from the field and 9-for-10 from the free throw line. He leads the team in scoring (16.8), assists (4.4) and is second in rebounding (7.6). He does it all for UNH. He can play!