23
Dec
The Norse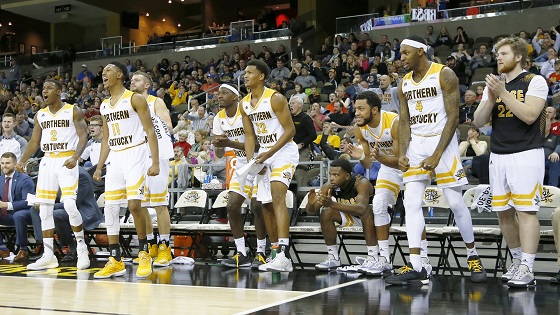 On Dec. 19 Northern Kentucky entered the Mid-Major Top 25 for the first time in school history.


Like any coach, John Brannen doesn't want to cap his team's potential for growth this season. Nor should he. It's clear this Northern Kentucky squad enjoys a high ceiling.
The Norse rides a six-game winning streak into a huge challenge Friday at No. 11 West Virginia. It is 9-3, has already matched the last season's win total and needs five more victories to set a program record at the Division I level. NKU also made history earlier this week, cracking the CollegeInsider.com Mid-Major Top 25 poll for the first time since joining DI for the 2012-13 season.
"We have good chemistry with this group," Brannen said as his team traveled to Morgantown. "We've fought through the injury bug and a rough stretch and handled some adversity."
A winning overall record and upper-half finish in the Horizon League appear within reach this season. And there are many reasons to feel encouraged about the future.
NKU is located in Highland Heights, KY within 10 miles of hoops powers Xavier and Cincinnati, planted in fertile recruiting ground and surrounded by fans who understand and appreciate good basketball. They play their home games in the sparkling BB&T Arena, a $60 million multipurpose venue that seats 9,400 for basketball. It has provided a stage for Jay Z, Bob Dylan and Cirque du Soleil, and the Norse is following their lead, entertaining roughly 2,000 fans per game with defensive-driven, fast-paced, baseline-to-baseline basketball.
For the first time since reclassifying to Division I, the Norse is also eligible for the NCAA tournament.
"There's a buzz in the community about this team," Brannen said. "An excitement level because we are in the Horizon League and can compete for an NCAA tournament bid."
NKU is holding teams to 67 points, 42 percent shooting and only six 3-pointers per game. It is also 24th in the nation in defensive rebounding percentage, which Brannen cites as a key ingredient in the early success. Brannen is in his second year at NKU after spending the eight years prior as Anthony Grant's assistant at VCU and Alabama - two programs known for applying fierce defensive pressure.
The rookies have produced and the veterans have improved, which is a sweet recipe for success.
This year's freshman class was rated as one of the best in the mid-major ranks by several publications, including Next Up Recruits.
Carson Williams, Mr. Basketball in Kentucky last year, has been the centerpiece of the rookies thus far. The 6-5, 230-pound forward is third on the team in scoring (10.8 ppg) and second in rebounding (6.1 rpg) despite playing only 22 minutes per night.
"He's the most consistent person and player at that age that I've ever been around. You know what you're getting every day from him. His teammates know what they're getting - he doesn't have down days. That's matriculating onto the court," Brannen said.
Williams has two double-doubles and ripped down 14 rebounds in a loss to Illinois.
"He's extremely tough, he's physical around the rim," Brannen said. "His consistency and toughness have translated to the college game and any coach will tell you those are the two things it takes to play as a freshman."
Drew McDonald, a 6-7, 250-pound sophomore, leads NKU with 17.1 points per game. He scored 32 points against Morehead State and 28 vs. Delaware - both were NKU victories. Against Morehead, he hit 12 of 14 shots.
Lavone Holland, a 6-1 junior, is shooting 46 percent on 3-pointers vs. DI opponents and contributes 15 points a game.
NKU loves the 3-point shot, draining nearly nine per game while connecting on 34 percent.
This is still a young program, a young team. There's only one senior in the eight-man rotation Brannen uses most nights. The style is fun to watch and the locals are taking notice.

The Norse is climbing the ladder in a part of the country where basketball success isn't a birthright but is earned, appreciated - and often expected. NKU is an infant compared to its well-established neighbors, yet is trying to build a program that consistently produces similar results.