02
Jan
My5 - Week 8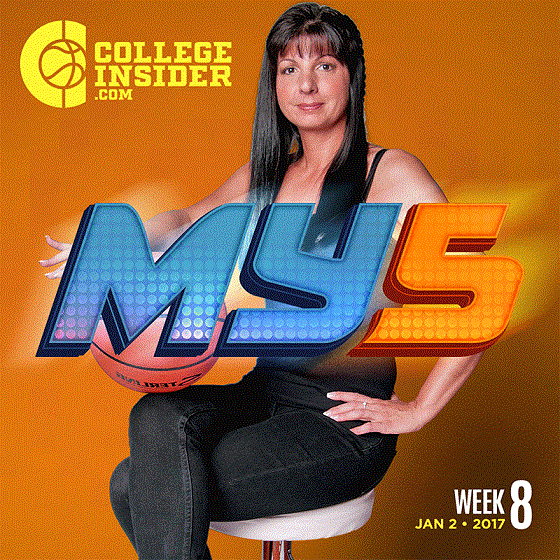 Check out Angela's Defining the Game


Tookie Brown (Georgia Southern): Brown has recently looked more like the guy who was named Sun Belt Conference freshman of the year last season. The 5-foot-10 sophomore failed to reach double figures in three of the first six games of the season, but he has been playing much better of late. He opened conference play with a season-best 29 against Georgia State. After scoring 20-plus in just three of the first ten games, Brown has had four straight games with 20 or more.
Charles Cooper (Green Bay): The 6-foot-4 senior leads the Phoenix in scoring (13.5) and rebounding (5.4) and did a little of each in two big road wins last week. He had 19 points and eight rebounds at Cleveland State last Thursday. On New Year's Eve he dropped a season-high 22 on Youngstown State. He also had a season-best in rebounds with 10 and assists with four. A real under-the-radar guy, Cooper is the epitome of a basketball player.
Eric Garcia (Wofford): The Terriers played one game last week and Garica came up big. The 6-foot senior, who is shooting 98% from the free throw line, was a perfect 16-for-16 on Saturday. He finished with a career-high 31 points, as Wofford rang in the New Year with a win over Mercer. Garcia also finished with six assists and four rebounds. For the season he is shooting 51% from the field and 52% from beyond the arc. He can shoot a little bit.
Norbertas Giga (Jacksonville State): JSU has a good young player in the 6-foot-10 freshman. The native of Lithuania played big minutes last week, as the Gamecocks opened Ohio Valley Conference play with two road wins. On Thursday he had 17 points and seven rebounds at UT-Martin. On Saturday he had 15 points and 11 rebounds at Eastern Illinois. He's averaging just over 11 points and nearly eight rebounds per contest and he's shooting 51% from the field.
Khris Lane (Longwood): The Lancers opened Big South play with two wins last week. It's the first time Longwood has started 2-0 since joining the conference and the 6-foot-6 Lane was a big contributor. He opened with a career-high 30 points in a home win over Campbell. He also pulled down eight rebounds in the victory. Two days later he had 18 points and seven rebounds on the road at defending Big South regular-season champion High Point.