09
Jan
My5 - Week 9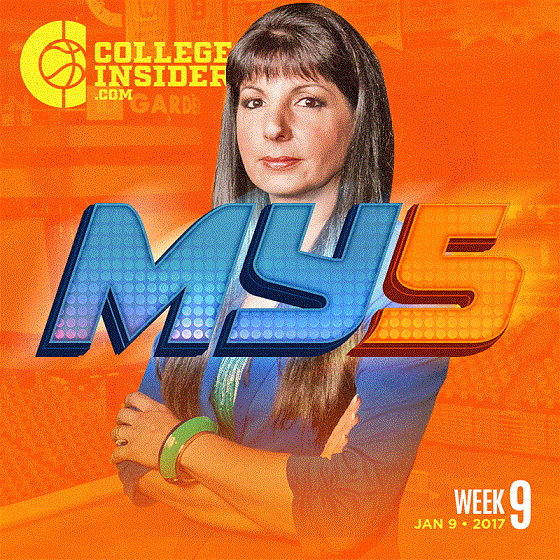 Check out Angela's Defining the Game


Marcus Barham (Florida A&M): After a very challenging non-conference slate, the Rattlers are off a 2-0 start in the MEAC. The 6-foot-4 junior helped FAMU to a pair of wins last week. On Wednesday Barham had 21 points, seven rebounds and five steals at Howard. He was 5-for-6 from beyond the arc. On Saturday he had 18 points, seven rebounds and two blocks against Coppin State. The Rattlers will host Morgan State on Tuesday for sole possession of first place in the MEAC.

Quinton Hooker (North Dakota): The 6-foot senior helped the Fighting Hawks keep pace in the Big Sky with two wins last week. On Thursday Hooker finished with 20 points and four rebounds against Northern Arizona. Two nights later he had 23 points, seven rebounds and six assists against Southern Utah. He was 6-for-11 in the two games from three-point range and is shooting 45% from beyond the arc this season. Big week for UND, which will be on the road to play both Montana and Montana State.

Stephan Jiggetts (Fairleigh Dickinson): The Knights are 4-0 and sit alone on top of the Northeast Conference, thanks in part to the play of Jiggetts last week. The 6-foot-1 junior chipped in with 17 points and seven assists in a road win at Wagner. Two days later he finished with 20 points and six assists against Bryant. He hit two big free throws in the closing seconds to win it for FDU. The Knights hit the road this week for games at Mount St. Mary's and Central Connecticut State.

Drew McDonald (Northern Kentucky): The Norse continue to play good basketball and McDonald has helped to lead the way. The team's leading scorer and rebounder had another big week. On Thursday the 6-foot-7 sophomore had 15 points and 15 rebounds in a win over Youngstown State. On Saturday he poured in a career-high 37 points against Cleveland State. He was 11-for-15 from the field and also pulled down 10 rebounds. NKU hits the road for big games at Green Bay and Milwaukee.

Chima Moneke (UC Davis): The 6-foot-6 junior is one of the better-kept secrets in college basketball. The JUCO transfer leads the Aggies in both scoring and rebounding and did a little of each last week. He had 15 points and 10 rebounds against UC Santa Barbara. He followed up that effort with 18 points and five rebounds against Cal Poly. Moneke was a combined 14-for-20 from the field in the two games and is shooting nearly 60% on the season. What an addition he has been for Coach Jim Les.