06
Feb
My5 - Week 13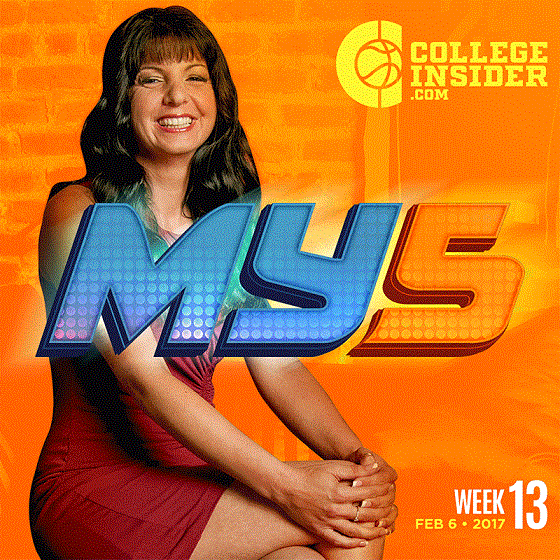 Bogdan Bliznyuk (Eastern Washington):
It was a pretty good week for Bliznyuk and teammate Jacob Wiley. The team picked up two wins and the teammates tied the school-record for points in a game. Both players scored 45 in the 3 OT win over Portland State. Wiley
earned Lou Henson National Player of the Week honors
and Bliznyuk gets a My5 nod. The 6-foot-6 junior came within one assist of a triple-double. He had 10 rebounds and nine assists against PSU. He does it all for Eastern Washington.
Patrick Cole (North Carolina Central): The 6-foot-5 senior has helped the Eagles to seven straight wins. Last Monday he hit five three-pointers and finished with 28 points on the road at Delaware State. He was 7-for-12 from the field and a perfect 9-for-9 from the free throw line. He capped off the week with 17 points, seven rebounds and seven assists at Morgan State. He was 8-for-8 from the charity stripe. That win gave Central sole possession of first place in the MEAC. Patrick Cole can play.
Austin Nehls (Central Connecticut State): Last week Central Connecticut State picked up the first big win for new head coach Donyell Marshall. The Blue Devils rallied from down 15 to win on the road at first place Mount St. Mary's and Nehls was one of the heroes. The 6-foot-3 sophomore, who leads the team in scoring, hit a step back three with 1:17 left to give CCSU its first lead of the game. The win snapped the Mounts' eight-game win streak. Terrific win for Nehls and the Blue Devils.
Sean O'Brien (Southern Illinois): While Illinois State and Wichita State have been fighting it out for the top spot in the Missouri Valley, Southern Illinois has quietly moved into third place in the league standings. The 6-foot-7 junior helped the Salukis maintain sole possession of third, with 19 points and 10 rebounds at Loyola on Saturday. He was 9-for-11 from the field and also had four assists. Earlier in the week he had 11 points, eight rebounds and four assists against Bradley. O'Brien is an underrated guy.
Justin Robinson (Monmouth): You could pencil this guy in for the My5 every week. Last Monday the 5-foot-8 senior became the school's all-time leading scorer (Division I era) with his 24-point effort at Marist. Robinson also six rebounds. On Friday he had 29 points as Monmouth got past St. Peter's in OT. Robinson has scored 20 or more in seven straight games and the Hawks have their second nine-game win streak of the season. Coming into the season the school-record for consecutive wins was eight.