08
Feb
No Panic in Asheville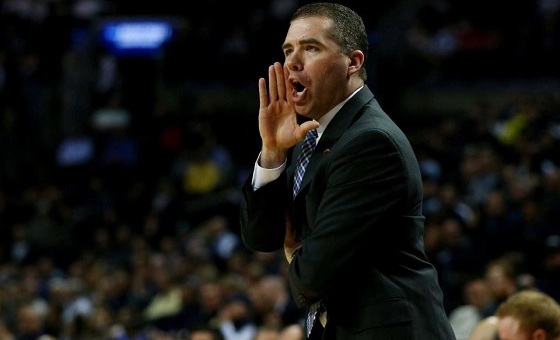 Nick McDevitt led UNC Asheville toi the NCAA Tournament in his third year as the head coach.
During the offseason it was easy to focus on the players UNC Asheville would not have on the court in 2016-17. Entering the final weeks of the regular season, the Bulldogs are proving there's ample firepower on the roster anyway. Confirmation comes from glancing at the Big South standings. The Bulldogs share first place. They entertain co-leader Winthrop on Thursday in a rematch of last year's Big South championship game, which UNCA won 77-68.
Dwayne Sutton, a freshman on last year's team, was the MVP of that title game. His classmate Dylan Smith played a key role in helping the Bulldogs arrive there by leading the team in scoring. Both players made the Big South's All-Freshman team. Both also announced their plans to transfer in the months after UNCA lost to eventual champion Villanova in the first round of the NCAA tournament.
Sutton returned to his hometown school, Louisville, as a preferred walkon. Smith, an Alabama native, headed to the Pac-12 to play for Sean Miller at Arizona.
Meanwhile, UNCA never panicked. The pantry was still loaded. UNCA had three starters returning from a 22-win team. Nick McDevitt, the Bulldogs' fourth-year coach, also knew he'd signed a talented five-man freshman class that included another potential star.
"When we're able to continue to stress the importance of the program over any one player it allows for more stability," McDevitt said. "The way we play for instance. We always stress sharing the basketball and being a team that's difficult to defend. When you're not a one-man band so to speak, you can withstand graduation as well as transfers and still continue to compete at this level."
McDevitt understands the departures are part of the landscape when you coach at a school in the Big South, which is ranked 28th out of 32 Division I conferences this season at KenPom.com and 25th in RPI.
In one way, it's a good problem to have. Attracting players who are superior in skill and athleticism compared to the average player in your league is a clean route to consistently competing for championships. McDevitt has accomplished this throughout his tenure as head coach. The Bulldogs have finished with a winning conference record each season and landed in the top three twice. The downside is there's always a chance the player will depart for a higher profile school before his eligibility
expires.
Smith and Sutton, who are both sitting out this season due to NCAA transfer regulations, weren't the first players to depart UNCA early. Chances are, they won't be the last to leave either. Transferring is ingrained in the college basketball culture. Each Division I program loses, on average, two-to-three players each year. But solid programs move forward and rely on the foundation that enabled them to have success in the first place.
At Asheville, those things don't change.
UNCA has dominated the turnover battle again this season. The Bulldogs rank fourth in the nation with a +5.1 margin, slotting long, athletic defenders into a wicked zone or active man-to-man. Both defenses shrink the floor for opponents by clogging driving and passing lanes.
It's a reflection of one of the principles of the program: control what you can control.
"On the defensive end, we talk to our guys about playing with a ton of energy," McDevitt said. "On offense, share the basketball. When you have a team that can pass and catch you're going to get shots. When you put all that together and play hard you can create turnovers. Shooting percentage kind of takes care of itself when you play unselfish."
Coaches often say scoring is the easiest attribute to replace. Ahmad Thomas has increased his average by six points to a team-high 17.4 ppg a game. The junior is long, athletic and a mismatch nightmare as an undersized power forward who can bury perimeter shots, which is where he's shown tremendous improvement. After hitting only 16 of 58 3-pointers in his first two seasons, he's 31 of 62 beyond-the-arc this season.
Thomas epitomizes the offseason work ethic, selflessness and versatility that defines this Asheville program under McDevitt.
"He's always been a guy who brought a lot of toughness and energy to our team on the defensive end of the floor," McDevitt said. "A guy who has been very disruptive, long and athletic enough to guard multiple positions. We can put him on the other team's best perimeter player or post, which is a luxury for us. Now he's making shots which can cause problems for the defense."
Helping the sturdy Thomas shoulder the scoring load is MaCio Teague, an impressive freshman from Cincinnati. The 6-3 point guard is the clear frontrunner for Big South Rookie of the Year and making a strong case for the All-Conference team. He's averaging 15.1 ppg on 44 percent 3-point shooting and 88 percent free throw shooting.
"You really can't expect a true freshman to come in and score it the way he has and take care of the ball the way he has. He just plays with an unusual amount of poise and confidence for a freshman," McDevitt said.
Teague leads the team and is third in the Big South in minutes (33.9 per game) and has an astounding 3.45 assist-turnover ratio, committing fewer than one miscue per game.
Teague hasn't backed down from the stiffest challenges on Asheville's schedule. If anything, he's thrived in the most important games. He had 23 points, six rebounds, five assists and only one turnover in 38 minutes in a two-point loss at Ohio State. He had 15 points and six rebounds in the tough loss at Winthrop. Teague has scored in double figures in 15 of the last 18 games and the Bulldogs were fine without him in the three games when he didn't, winning each handily.
McDevitt felt Teague could reach this level by season's end. When the freshman played 29 turnover-free minutes against VCU's pressure in a tough road environment in the season opener, the coach started thinking he might have another special player on board.
"He has an even-keeled disposition," McDevitt said. "He's a very hard worker. In the gym every day. Just one of those quiet, humble kids that loves basketball and wants to be great. That has endeared him to his teammates right away. He's easy to play with and easy to get out there and play for as well."
The Bulldogs have all of their season goals in sight, to be decided in the next month. Winning the Big South outright is critical this season because the No. 1 seed will play host to the tournament quarterfinals and semifinals, and of course the title game if they're still alive. Evening the season series with Winthrop on Thursday would be a long stride toward the crown. Liberty, who UNCA beat on Jan. 3rd, comes to Asheville for the regular season finale on Feb. 25th.
In the beautiful Blue Ridge Mountains of North Carolina, strong basketball by the Bulldogs has become a certain sign that winter is fading and spring will be here soon.