16
Feb
More Offensive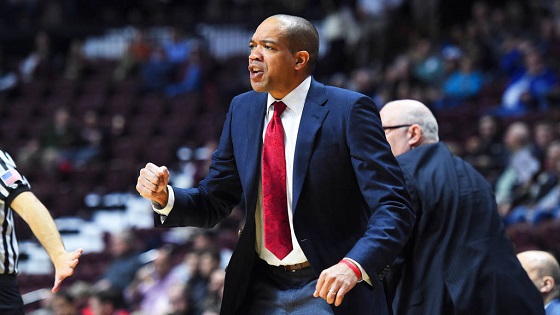 Sydney Johnson is looking to lead Fairfield back to the NCAA Tournament for the first time since 1997.

After a disappointing season in 2014-15, Fairfield coach Sydney Johnson analyzed his team and reflected on his favorite experiences in coaching. On his journey through the past, Johnson uncovered the recipe for the Stags' future. The time had come to accelerate the pace on offense.
The former Princeton coach and Georgetown assistant thought back to former players like Jeff Green, Brandon Bowman and Kareem Maddox and the system which enabled each to thrive.
"Some of the more talented and fun teams, we got up and down the court more than the numbers would offer and that's when we were most dangerous," Johnson recalled. "I watched some of that film and said, I want to commit to that. I never want to lose my roots, whether it's the Princeton roots or the professional career I had overseas, but also get into more of an open and up and down style, make that the heart of what we do and if we don't have those opportunities, really share the ball in the halfcourt."
The change has been startling.
In 2014-15 when Fairfield struggled to a 7-24 record, its average offensive possession lasted 19.9 seconds per KenPom, which was 1.5 seconds longer than the national average and 312th out of 351 Division I teams.
The following season, the Stags trimmed more than four seconds off that average to 15.4 seconds, nearly two seconds shorter than the national average and 16th overall in DI. The result? A 19-14 record and fourth place finish in the MAAC, which was the program's best since 2011-12, Johnson's first season in charge.
Not that Johnson needed to be convinced. But the immediate reversal of fortune helped validate the change in philosophy.
Along with the new style came a rebranding for the basketball program across the scenic wooded campus in Fairfield, Conn. They embraced a new handle: 'Runnin' Stags' and their scoring output increased 17 points to 76.4 ppg. They also scored more efficiently. After two seasons well below the national average in points per possession, they finished fifth in the MAAC last season.
They finished the season with the fourth-best turnaround and reached the MAAC semifinals.
It's unusual for a successful coach to undergo such a sudden shift in philosophy. The deliberate pace served Johnson well. He led Princeton to a 47-16 mark in the final two seasons of his four-year run there, including a 23-5 conference record and Ivy League title in 2010-11, and parlayed the success into the Fairfield job.
The Stags were 21-15 in the MAAC in Johnson's first two seasons. But the two disappointing seasons prompted the radical change.
Although the pace was picking up, Johnson's recruiting approach remained the same.
"We were still looking for guys who could pass, dribble and shoot," Johnson said. "If you give them more possessions to do so, then probably all those skills are going to show up more. It certainly demanded some athleticism and unselfishness. It's not just run-and-gun, it's get up-and-down and get a really good shot."
The Stags are 70th in average length of offensive possession this season and have a 13-11 record.
Fairfield lost five games in 13 days in January this season, but started clicking afterward, averaging 77 points in three consecutive victories over Marist, Manhattan and Niagara.
They've won five of six entering a critical two-game trip to Quinnipiac and Saint Peter's this week. Both games present opportunity to solidify a spot in the top five regular season standings, which is imperative, since the top five teams receive first-round byes in the MAAC Tournament, March 2-6.
The Stags are 8-7 in the MAAC and tied for fifth. Quinnipiac nipped Fairfield by two points on Feb. 6th and Saint Peter's is in third place.
Monmouth will enter the tournament as the clear favorite but in a three-day single-elimination event, madness can reign supreme. The Stags are better on the defensive end this season - ranking third in MAAC games in defensive efficiency - and guards Tyler Nelson, Curtis Cobb and Jerry Johnson Jr. form a backcourt that can make March magic. They combine for 44 points per game.
Regardless, the word is out: come to Fairfield and play fast. Prospects are taking notice.
"People are seeking us out," Johnson said. "It is a fun way to play. The style of play is recruiting for us as much as the phone calls and text messages that we are making for recruits."