17
Feb
Special Season in the Making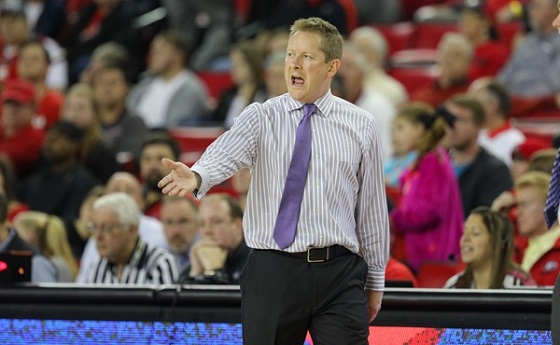 Last season Niko Medved led Furman to its first postseason win since 1974.

Eric Lechlitner is the director of operations for the Furman men's basketball team. These days he has the most important job in the program. His phone remains on and with him at all times, even during games. His boss, coach Niko Medved, and wife Erica are expecting their first child any day now. The due date is Saturday when the first-place Paladins entertain UNC Greensboro in a Southern Conference battle. If the call comes during a game, Lechlitner will take it and relay the news to his boss.
What would happen next is unclear. In a perfect world, Medved said, his wife would want him to continue coaching the game if it had already started. But anyone who has ever been pregnant on the verge of having their first baby or been the partner to said person knows the minutes preceding, during and following childbirth are wild, exciting times forever burned in each person's memory. Emotions, hormones, feelings can run rampant.
The Medveds will cross that bridge when it comes.
This has already been a wild, exciting season at Furman. Medved has taken the program to places it hasn't visited in a very long time. The Paladins just wrapped a stretch of four-games-in-seven-days. They won all four to stretch their winning streak to eight games and vault into first place in the Southern Conference standings. A 74-62 win at Western Carolina on Wednesday secured the program's second 20-win season since 1991. In a year where all the preseason hype fell (understandably) on defending champion Chattanooga and hyper-athletic East Tennessee State, it's the Paladins who control their path to the program's first regular season title since 1991.
"You're just going, right in the thick of things, having a great season, been so many games, just going every day and staying focused," Medved said. "Obviously my wife is incredible. I have such a great group of kids and a great staff … it's a little surreal. Hard to even process all that's going on. It's all good things and that's life. And we're blessed. It's a crazy and exciting time to have everything going on like it is."
Medved was hired at Furman in the spring of 2013 after six seasons as an assistant at Colorado State. The Paladins have been building to this point slowly, steadily. They made a miraculous run to the Southern Conference finals in 2015, falling to heavily favored Wofford by three points. Last season, Medved steered Furman to its first winning conference record (11-7) since 2011 and the program's first postseason win since 1974, a thrilling 58-57 defeat of Louisiana-Monroe in the CollegeInsider.com Tournament.
Taking a cue from one of his mentors, Dick Bennett, he laid the foundation of the program on defense. The Paladins improved on that end each year, and are 78th in defensive efficiency per KenPom.com this season, which is the first time the program has cracked the top 100.
As more talented players landed on the Greenville, S.C. campus and matured, the team's offense turned the corner as well. Furman is first in offensive efficiency in SoCon games. It has produced a 20-8 overall record and 13-2 mark in the league.
"We thought we would contend," Medved said. "We thought we were better than everyone on the outside thought and it's manifested itself. We've got great chemistry. Kids really play together on both ends of the floor. Felt like we could contend, we believed in ourselves and here we are today. Taking it one day at a time, look up and we're right where we want to be."
Furman holds a game-and-a-half lead over East Tennessee State in a Southern Conference that's as strong as it's been since 2008 and 2009 when Steph Curry and Davidson were making national noise.
After playing UNCG (10-4) this weekend, the Paladins travel to face ETSU on Wednesday. They wrap the regular season on Feb. 25th at home against Mike Young's well-coached Wofford squad, which is 8-7.
There have been easier paths to a title.
None of the current Paladins were alive the last time the program won a SoCon regular season title, 26 years ago. Medved, 43, was a first grade student the last time Furman participated in the NCAA tournament, 1980.
Paddling through these uncharted waters has created a palpable buzz on the Furman campus. Fans have started paying attention. The Paladins attracted more than 2,200 fans to their last two home games against Chattanooga and Samford, and Medved expects a similar turnout Saturday in Timmons Arena, where they've won 16 consecutive conference games.
They come to see guard Devin Sibley, who is putting together a Player of the Year caliber season. The 6-2 junior from Knoxville leads the squad with 17 points per game. He's made 45 percent of 3-pointers and 59 percent of 2-pointers. They come to see forward Kris Acox, the only senior in Furman's nine-man rotation. He's taken on a larger role since 6-8 forward Matt Rafferty went down with a season-ending injury in early February. The Paladins spread the floor and play fast - 3-pointers account for 42 percent of their field goal attempts. They excel in transition and in playing as a unit, overcoming any size deficiency with superior quickness.
The Medveds don't know if they're having a boy or a girl. They wanted to be surprised. They have names picked out for each, but have opted to keep that a secret as well. Baby Medved will come whenever he or she is good and ready and enter a home where their dad has delivered a basketball rebirth that's rather special indeed.