20
Feb
My5 - Week 15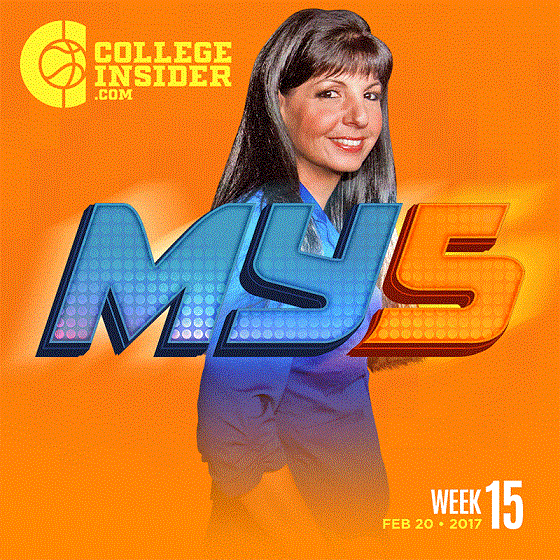 Jordan Fox (Army): After making their first postseason appearance in nearly 40 years, 2016-17 has been a challenge for the Black Knights. But last week Army mounted an historic comeback against rival Navy. The Black Knights trailed by 25 with 12:51 left in regulation. Jordan Fox hit two big three-pointers and Army made 12 straight field goals during one stretch. Fox finished with 22 points, seven assists, three rebounds and two steals. It's the biggest comeback in the history of the Army-Navy series.

Matt Howard (Penn): It's no coincidence that Howard has scored in double figures in four straight games and the Quakers have won all four. The 6-foot-4 senior was 5-for-8 from the field and finished with 11 points and five rebounds at Brown on Friday night. Two days later he had 14 points, six rebounds and five assists in a convincing 71-55 win over defending Ivy League champion Yale. Penn continues its four-game road swing this week with games at Cornell and Columbia.

Kyle Steward (UMKC): The Roos have won six of their last seven games and Steward has been a big key. The 6-foot-7 senior has scored in double figures during the seven-game stretch, which includes four straight 20-point efforts. On Saturday week he had 19 points and seven rebounds in win over Chicago State. He was 7-for-9 from the field. Steward has stepped up over the past few weeks and is now averaging just over 11 points and just over five rebounds per game. Keep an eye on the Roos.

Johnathan Stove (UL Lafayette): Some wins seem bigger than others and that was the case on Saturday. After beating South Alabama earlier in the week, the Ragin' Cajuns traveled to UL Monroe on Saturday. The Warhawks were in control throughout and held a 5-point lead with 12 seconds remaining. But two missed free throws in the closing seconds gave ULL one final shot and Johnathan Stove delivered. The 6-foot-4 junior hit a halfcourt shot at the buzzer to win it. He finished with 17 points and five rebounds.

Jaylin Walker (Kent State): The Golden Flashes won a pair of games last week, including a road win over Akron, which snapped the Zips 30-game home win streak. Walker played a key role in both wins. On Tuesday the 6-foot-1 sophomore had 20 points and four rebounds against Miami Ohio. Friday night he finished with 16 points and six rebounds against Akron. The talented sophomore is averaging just under 15 points per game this season. He can play!