27
Feb
Making his own Path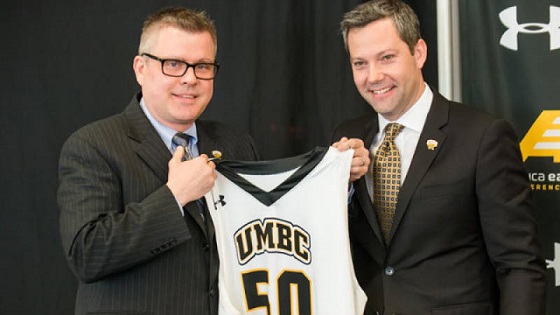 In his first year as head coach, Ryan Odom had led UMBC to its first winning season since 2008.

UMBC lost to New Hampshire 94-90 Saturday in a double-overtime heartbreaker. The teams were playing for the right to host the rematch Wednesday in the quarterfinals of the America East Conference tournament. UMBC won the first meeting - also in double overtime - earlier this season.
For the first time in a long time UMBC is a relevant college basketball team as February turns to March, which is a testament to the incredible work Ryan Odom performed in his first season as coach.
Despite the disappointing result vs. UNH, the Retrievers finished the regular season 18-11, clinching the program's first winning record since 2008. They won nine games in the America East after winning only 15 in the four previous seasons. Their success is built on an exciting style which led the conference in scoring (82.0 ppg) and 3-point shooting (40.1 pct.).
"We have a lot of good guys on the team and a great administration," said Odom, 42. "Everything has fallen into place maybe a little sooner than we expected."
As the son of a coach who won more than 400 Division I games, it would be reasonable to assume Odom rode his famous father's coattails. Dave Odom, after all, won 59 percent of his games in 22 seasons at East Carolina, Wake Forest and South Carolina, discovered Tim Duncan and won two ACC titles.
But the youngest of Dave Odom's two sons carved his own path, just like his older brother.
"My brother was coaching before I was (Lane Odom was an assistant at Alabama and Missouri). Once I graduated from (D3 Hampden-Sydney) we all kind of agreed it was best for us as coaches to go out on our own, rather than work for our father," Odom said. "That's not to say it doesn't work for others, it certainly does, been proven over the years to work both ways. But for us we've always wanted to keep the father-son connection as opposed to all of a sudden I'm working for him and it's not as easy at that particular time."
He started on the bottom rung, as a graduate assistant at South Florida, worked his way onto staffs in the Big South and Southern Conferences before hooking up with Seth Greenberg and spending seven years with him at Virginia Tech.
After their tenure ended in Blacksburg, Odom joined Alan Major at Charlotte, working under him for five years.
"I'm sure it could have been fun working for my dad," Odom said. "But at the same time it was best for my own development to learn from others. I've worked for some great coaches and they've helped shape me. And I've always got dad, so for me it's the best of both worlds."
In Jan. 2015, when Major took a medical leave from the sidelines, Odom slid into the head chair. The 49ers went 8-11 during his tenure. After the season university administration opted to look outside the program to find a new coach, hiring Mark Price.
Odom stood at a personal crossroads. Sure, he could fill a slot on another Division I staff. But he was 40 years old and ready to coach his own team. So he accepted the job as head coach at Lenoir-Rhyne, a Division II program in the foothills of the North Carolina mountains.
What might have been seen as an unconventional move by some actually resonated within the Odom family. His dad made a similar decision in 1982 when he left the sidelines after three seasons coaching East Carolina to become an assistant at Virginia, joining Terry Holland and three-time national player of the year Ralph Sampson.
At Lenoir-Rhyne, Odom implemented the up-tempo style and generated unprecedented success for a team coming off an eight-win season. The Bears finished ninth in DII in scoring (90.9 ppg), won 21 games and reached the regional finals for the first time in school history.
The rapid turnaround attracted the attention of UMBC athletic director Tim Hall and Odom was hired on March 30th of last year.
"I did not go in there with the intent to move on after a year and get back to Division I," he said. "My whole goal was to make Lenoir-Rhyne the best that it could be and give those kids that I was fortunate enough to coach the best experience they could have. We far exceeded those expectations. I wanted to coach, Lenoir-Rhyne gave me that opportunity, I could stay near family and do what I wanted to do."
In the first meeting with his new players at UMBC, he kept in mind that he had chosen them, not the other way around. They hit the practice court right away and started forging relationships. Studying box scores and film from 2015-16 revealed the Retrievers had been in most of their games. Now they needed to learn how to win them.
The Retrievers absorbed those lessons early, bolting out of the gate to a 7-1 start. As the nonconference slate unfolded, they lost by three points at Richmond of the Atlantic 10 and by one to Towson, a top-tier squad in the Colonial. Winning at James Madison offered further proof UMBC could be headed for a special season.
Through the hectic steps of a college season, Ryan talks to his dad on the phone every day. The elder Odom is often in the stands for games at the Retriever Activities Center. Watching isn't easy. Ryan describes his dad as 'absolutely nuts' during games not unlike former NBA coach Doug Collins at his son Chris' games at Northwestern.
"He likes to know how my guys are doing. He's kind of taken to all of my teams so far. There's a part of him that still misses coaching his own teams but it's a different time and different stage in his life," Odom said. "There's nothing harder than what he's doing right now, watching the games, can't imagine the nerves. He said he never had a game that made him like that, didn't matter if it was Carolina, Duke ..."
The lessons learned from him are immeasurable. The son of a coach grows up immersed in the game, in the gym for hours, in the locker room, listening, observing, understanding how to interact with a team and conduct oneself as a coach.
Still, there's a simple message from his dad that Odom never forgets.
"Coach your team," he said. "A lot of times as a younger guy you focus a lot on recruiting. It's not their fault. But he told me from day one, yeah, you have to do that, it's a big part of the program and you have to be right a lot of the time in your recruiting efforts but there's so much more that goes into it."
For all the progress this season, Odom understands the gap remaining between his program and the America East's elite. When the Retrievers beat defending champion Stony Brook on The Retrievers defeated the America East defending champion Stony Brook on Feb. 22nd, it snapped an 18-game losing streak in the series. They've lost 16 of 17 to Albany. Vermont - the first team to record a perfect conference record this season - can claim 21 consecutive victories over UMBC.
To climb toward their level, Odom will lean on the words of his father.
"You have to learn how to coach, he'd say. Learn the game, learn how to teach the game and learn how to put those pieces together. Because that's what coaching is. You have to be on it every day. Because if you let it go, it's going to bite you."