27
Feb
My5 - Week 16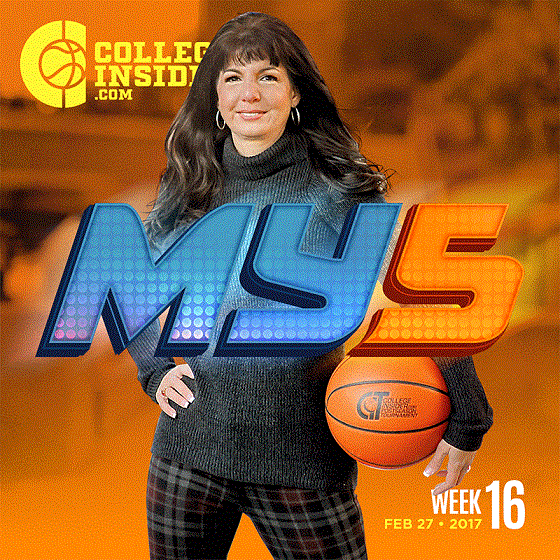 Isaiah Blackmon (St. Francis PA): On Saturday the Red Flash closed out the regular season with a win over Fairleigh Dickinson. The victory gave St. Francis 11 Northeast Conference wins for the first time since 1995-96 and its first NEC Quarterfinal home game since 1991. The 6-foot-1 sophomore was the star of the game, with 20 points and five rebounds. Two days earlier he had 12 points and six rebounds against Sacred Heart.
Brandon Brown (Loyola Marymount): On Saturday night, LMU's leading scorer made the biggest shot of the season. The 5-foot-11 senior, who finished with 24 points, hit a jumper with 26 seconds remaining to give the Lions the road win over Pacific. Brown also have four rebounds, three assists and three steals. The win guaranteed LMU would not finish with a losing record. That's a big hurdle for a program that has struggled the past couple seasons.
Charlie Jones (American): It's been a tough season for the Eagles, but they closed out the regular season with road wins over Navy and Loyola MD. The 6-foot-4 senior had 12 points, seven rebounds and four assists against Navy last Wednesday. On Saturday he made one shot from the field, but it was a difference maker. Jones hit a three-pointer with 2.6 seconds to give American a 64-62 win. He also contributed with eight rebounds, three assists and two steals.
Preston Parks (The Citadel): The 6-foot-1 freshman had quite a game on Saturday. Parks poured in a career-high 37 points, as The Citadel broke an 11-game losing streak with a road win over Samford. Parks also had eight rebounds, three assists, three steals and two blocks. Earlier in the week he had 19 points, seven rebounds, five assists and three steals against Western Carolina. The Bulldogs have a good young core. Keep an eye on Parks and The Citadel in the next couple of years.
Thomas Wilder (Western Michigan): The Broncos are the hottest team in the Mid-American Conference. With six straight wins they have pulled into a first-place tie with Ball State in the MAC West Division. Wilder had 16 points, six assists and four rebounds in a lopsided win over Ball State on Saturday. Earlier in the week the 6-foot-3 junior dropped 30 on the road at Toledo. Wilder was 11-for-19 from the field and added seven rebounds, four steals and three assists.