04
Mar
My5: Great Hires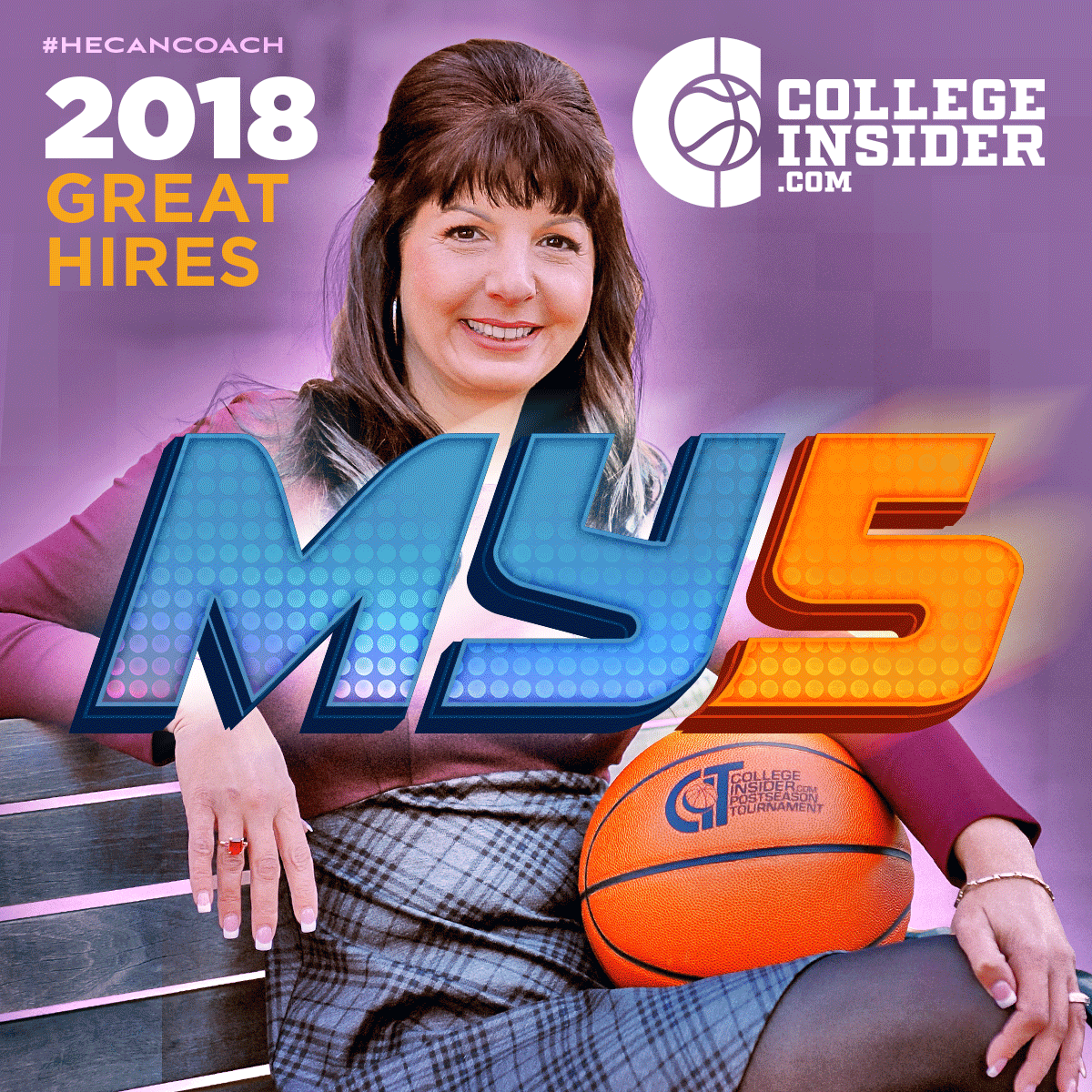 It can be difficult when trying to grade coaches in their first season at a new school. It's easy to point to win-loss records, but there are so many factors to consider when evaluating success or lack thereof.
Justin Hutson (Fresno State) and Craig Smith (Utah State) should make an appearance on some national coach of the year lists. Hutson, a longtime assistant at San Diego State, was long overdue to get a chance to run his own program. He is a star. And so is Smith, who took a good South Dakota program and turned it into a top 10 mid-major program.
Drake's Darren DeVries and Missouri State's Dana Ford are vying for Missouri Valley coach of the year and national coach of the year honors. DeVries took over a program that returned just one starter. At mid-season he lost his top transfer and yet he is still in a position to win the Valley. As is Ford who returned two starters, saw one leave the program in December, but entered the final weekend of the regular season with a chance to win the school's first MVC title since 2011.
In the Sunshine State both Jeremy Ballard (FIU) and Dusty May (FAU) are raising the profiles of their respective programs. Ballard, a former VCU assistant, is in the process of leading the Panthers to just their second winning season in 20 years. May has a chance to lead the Owls to the second 20-win season in school history, after inheriting a program that won just 39 games over the previous four year.
And the list goes on...
It won't take Mark Gottfried long to turn CSUN into a contender in the Big West and Jamion Christian will return Siena to prominence in the Metro Atlantic Athletic Conference. Chris Ogden's hybrid triangle-and-two has keyed UT-Arlington's success, while Johnny Jones has kept things rolling at Texas Southern.
Richie Riley won at Nicholls and will do the same at South Alabama, while Michael Fly (FGCU), A.W. Hamilton (Eastern Kentucky) and Mark Prosser (Western Carolina) have seen their teams improve as the season has moved along.
And after averaging just eight wins per season over the past five years, Longwood has found its coach in Griff Aldrich who went from managing partner of a multi-billion dollar private equity firm to a very successful first year coach.
It's reasonable to conclude that a lot of coaches are enjoying varying levels of success this season. Here are "My5 Under-the-Radar first year Coaches."

JOHN DUNNE (MARIST)
Outside of Poughkeepsie few people even noticed the introduction of the Marist basketball coach. Make no mistake -- this was a great hire by Athletic Director, Tim Murray. Dunne may not have the wins on his resume that others can boast, but Dunne is a winner. Dave Magarity had nine winning seasons, in his time at Marist, and Matt Brady produced three winning seasons. In the 10 years since Brady left the Red Foxes have averaged eight wins per season.
Marist is in double-digits in wins for the first time in five years and Dunne has a history of getting better every year. In his first five seasons at Saint Peter's, Dunne won more games than he did in the previous season. That culminated with the school's first 20-win season in 20 years and a trip to the NCAA Tournament (2010-11).
Dunne stresses defense and his teams are always well-coached in halfcourt offense. In his time at Saint Peter's, Dunne coached ten 1,000 point scorers, 13 All-MAAC selections, three MAAC All-Rookie Team selections, four MAAC All-Tournament selections (including a MAAC Tournament MVP), and a MAAC Defensive Player of the Year.
In 2017 Saint Peter's set a school-record with 14 conference wins. They missed out on a chance to play in the NCAA Tournament, but Dunne and the Peacocks went on to win the 2017 CIT. John Dunne can really coach!
JARED GRASSO (BRYANT)
Grasso really should have gotten a shot as a head coach long before this season. But everybody's oversight is a win for Bryant, which had slipped over the past few years and won just three games last season. Enter Grasso who has a reputation as a great talent evaluator and he can recruit.
As Iona's recruiting coordinator, Grasso was very instrumental in helping to recruit and develop 11 first-team All-MAAC selections, three MAAC Player of the Year winners and a MAC Rookie of the Year. Altogether 22 players who came through the program when Grasso was there later played professionally. And Iona was the only Division I program to send a player to the Portsmouth Invitational Tournament for five straight seasons.
Grasso may not be able to get that kind of volume to play at Bryant, but he will most definitely assemble a roster of talent that the program hasn't seen previously. Keep in mind that Grasso was recruiting talent before he arrived at Iona.
He spent four seasons at Fordham, including the majority of his final season as interim head coach, and helped put together a recruiting class that was ranked Top 25 nationally. He also helped the Rams to their winningest season in 15 years so he can do a lot more than just recruit.
He has more than tripled Bryant's win total of a year ago and they have held their own in the Northeast Conference beating Saint Francis (PA), Saint Francis-Brooklyn, while sweeping perennial NEC contender Wagner. Jared Grasso is going to turn Bryant into a perennial contender.
TAVARAS HARDY (LOYOLA MD)
Personally I hated to see a change made at Loyola. G.G. Smith is a friend and one of my favorites, but that's the nature of the business. So enter the 38-year old Tavares Hardy who is yet another on a long list of longtime assistants who should have gotten a chance years ago.
Hardy came to Loyola with a reputation as a recruiter and he can recruit. In his most recent stint, at Georgia Tech, Hardy had a big hand in two nationally ranked classes. But you can't thrive in this business as strictly a recruiter. Tavares Hardy brings a lot more to the table.
While at Georgetown, Hardy was key in the development of several players including Isaac Copeland, Jessie Govan and L.J. Peak. All three had terrific careers. In seven seasons at his alma mater, he helped Northwestern to four postseason appearances, which really helped to change the culture and set the stage for the school's first-ever NCAA Tournament appearance in 2017.
He can recruit. He excels in player development. And he can coach! A quick glance at the standings in the Patriot may suggest otherwise, but the Greyhounds have really improved over the past few weeks. After a couple of 15-point losses to open Patriot League play, Loyola has been in every game. That includes a home win over regular-season champion Colgate and a hard-fought three-point lost on the road to the Raiders. It's just a matter of time before this program is challenging in the Patriot.
SAM SCHOLL (SAN DIEGO)
To put it in simple terms --- Sam Scholl is the perfect hire for the University of San Diego.
Scholl's connection goes back to when he was playing at Tacoma Community College and Brad Holland was coaching the Toreros. Scholl recruited USD a lot harder than they recruited him. In the end Holland liked what he could bring to the table so he came to Southern California and stayed for a while.
After his playing career ended Scholl joined the coaching staff. He spent seven seasons with Holland and made one trip to the NCAA Tournament. It was during the Brad Holland era when the program became a perennial contender in the West Coast Conference and the Jenny Craig Pavilion opened in 2000. Holland posted 11 winning records in 13 years.
The school has had just three winning seasons since he left with the last coming under the Lamont Smith-Sam Scholl dual coaching effort last season. Late last season Scholl was named interim head coach under difficult circumstances, but he learned under Holland how to do more with less and win in spite of whatever obstacle lay ahead. And Scholl and the Toreros haven't looked back and now they have a chance to do something that has never been done at San Diego --- Back-to-Back 20 win seasons for the first time in school history.
San Diego has always had to fight an uphill battle against more tradition-rich and financially rich opponents in the West Coast Conference so it's vital to have a head coach that understands the lay of the land. Translation --- Athletic Director Bill McGillis hired the perfect coach.
TUBBY SMITH (HIGH POINT)
Okay, so hiring Tubby Smith isn't exactly a low-profile event, but when you coach in the same league as a 3,000-point scorer you have to do something spectacular to steal the shine away from Campbell's Chris Clemons. Tubby hasn't done that yet, but it won't be long before he has the Panthers knocking at the front door of the Big Dance.
Season one has been filled with mixed results. Injuries and inconsistency have held High Point back, but the school isn't holding much back in its commitment to win. High Point already had one of the most beautiful campuses in America, but now a brand-new, state of the art, $130 million dollar complex is scheduled to open in 2020. The Nido and Mariana Qubein Arena, Conference Center and Hotel will become the home of the High Point Basketball programs.
It's a perfect storm for Tubby Smith. The university has seen enrollment more than triple and grown from three to eight academic schools. The US. News & World Report ranked HPU the Best College and the Most Innovative College in the South and the Princeton Review included HPU among its Best 382 Colleges in the Nation.
Smith graduated from High Point in 1973 and immediately got into coaching. It's taken 45 years, but Orlando Henry Smith has finally returned home.