13
Jan
He's the Man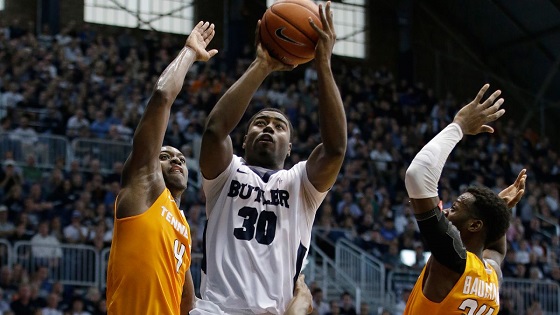 Kelan Martin leads Butler in scoring with 16.8 ppg. and in rebounding with 5.5 rpg.

For the first time in his life, Kelan Martin is the go-to guy.
The 6-foot-7, 220-pound junior leads No. 12 Butler with 16.8 points and 5.5 rebounds per game. No Bulldogs come close to his 29.9 percent usage rate. Even on a national scale, his 2016-17 campaign has been impressive. Kenpom.com ranks Martin ninth among national player of the year candidates.
"He's got a fire inside him to grow and be better," Butler coach Chris Holtmann said. "I think that's one of his greatest qualities."
That was not always the case.
When Martin was in middle and high school, many nights transpired the same way.
Quentin Snider would come to the Martin family's home in Park DuValle, a neighborhood in southwest Louisville. When he was home from Florida's Montverde Academy, D'Angelo Russell would come, too.
The three friends, who were also basketball teammates at various points growing up, would watch television. They would play video games. Here and there, they would talk some hoops.
"Just what regular high school kids do," Martin said.
Only they weren't regular high school kids. Regular high school kids don't graduate and spend a year at Ohio State before getting drafted second overall by the Los Angeles Lakers, like Russell. They don't win Kentucky's Mr. Basketball award and arrive at Louisville as a heralded hometown hero, like Snider.
Martin bore the closest semblance to a regular high schooler. Yes, he stars for Butler now. But like many teenagers, he did not know the path he wanted his life to follow.
"I was kind of stuck in between basketball and football," Martin said. "I just didn't care too much for basketball, especially my first few years of high school. I really didn't care."
Russell and Snider did.
Sharing an AAU court with Russell and Ballard High School's floor with Snider left Martin constantly playing second fiddle. Russell and Snider were the bona fide stars, and Martin was content letting them bear the burden of carrying a team.
For Russell, the scholarship offers began pouring in during his sophomore year. Snider verbally committed to Louisville as a sophomore. When he re-opened his recruitment before his senior year, there was no shortage of coaches calling. He ultimately signed with Louisville but committed to and de-committed from Illinois first.
Late in Martin's sophomore year, people he trusted told him he could receive similar scholarship offers if he dedicated himself to pursuing that goal.
"It was kind of humbling to me, seeing those guys get recruited by big schools," Martin said. "For them to get recruited by those schools made me want to work harder and harder each time. It was good seeing them getting that attention, and I wanted the same."
Martin began jumping rope and doing agility drills in his backyard. He improved his ball handling and shooting, and offers began trickling in late in his junior year. He received several more over the summer and committed to Butler in the fall.
"Me and my parents used to always talk about what hard work was and what is the minimum and what is the maximum of it," Martin said. "If you want to be decent, you put in the minimum, but if you want to be good or great, you put in extra. I've continued to put in extra work."
ESPN rated Martin as a four-star recruit but omitted him from its Top 100 list. Scout gave him three stars. So he arrived at Butler with promise, but he was not a program-changer from day one.
Martin played 14.6 minutes as a freshman, on a team led by Roosevelt Jones and Kellen Dunham. His minutes increased to 28.3 per game last year, and he ranked second, behind Dunham, with 15.7 points and first with 6.8 rebounds. But Jones and Dunham each averaged about five minutes more than Martin, who did lead the team with a 26.4 percent usage rate when he was on the floor.
Jones and Dunham graduated last year, leaving Martin as the star.
"I've never been through this situation," Martin said. "I knew it was coming, but I just didn't know how I would handle it."
Butler (14-3) played a challenging non-conference schedule, and Martin excelled. He averaged 19.7 points -- up 2.9 points from his season average -- in wins over Northwestern, Vanderbilt, Arizona, Utah, Cincinnati and Indiana.
"In some of our big wins, Kelan has certainly played a pivotal role," Holtmann said.
Though Martin has slumped offensively (11.6 ppg) early in Big East play, his defense and rebounding (7.6 rpg) have been critical. When Butler upset then-No. 1 Villanova last week, Martin helped limit national player of the year favorite Josh Hart to 13 points and 3-of-11 shooting.
"He defended Josh Hart well, and that was our team too, but he defended him for a good portion of the game and I thought he did a really nice job on him," Holtmann said. "That's the expectation for him."
Well, that's one expectation. Another is that Martin will continue to improve, considering he has only devoted himself to his craft for a few years.
"He's still learning the game," Holtmann said. "He's still hungry to grow and learn and add things to his game. I think he understands that that's a continual process for him. I'm excited to see what that looks like for him throughout the rest of this year and beyond."