16
Jan
Time for a Change in Jonesboro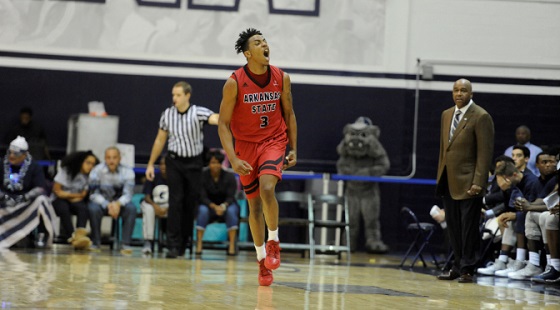 Devin Carter and Arkansas State had some impressive early wins, including a victory at Georgetown.


The first conversation between Grant McCasland and Devin Carter last March resided on the border of insanity.
McCasland had never run a Division I program. Arkansas State had not reached the NCAA Tournament since 1999, and the Red Wolves were not exactly primed to return in 2017, considering they had six guaranteed departures from an 11-win team.
But McCasland's confidence did not waver as he delivered his message.
"You could just see it in his eyes," said Carter, Arkansas State's leading scorer the last two years. "He looked you in the eye and gave you a firm handshake and he made it known that it was time for a change, a time to go to the NCAA tournament. The very first day we were already talking about a conference championship."
The Red Wolves, whom Sun Belt coaches tabbed 10th in their preseason poll, have already exceeded last year's win total. UT Arlington is still the favorite, but the Red Wolves (12-6, 3-2) have won at Georgetown. They've beaten Chattanooga on a neutral floor and nearly came back to win at Minnesota.
Now, a Sun Belt championship does not seem so insane.
"I told these guys that we wanted to win the Sun Belt Conference and we wanted to play together and play for each other," McCasland said. "That was basically the end of it."
McCasland's roots are in Texas. Before he accepted the Arkansas State job last spring, he had spent just two years living outside the Lone Star State, when he was an assistant at Colorado's Northeastern Junior College.
McCasland, who played for Baylor from 1995-1999, served under Scott Drew at his alma mater from 2011-2016.
As a senior at Baylor, he lost a game at Arkansas State. He had spent some summers at Camp Ozark in Mount Ida, in western Arkansas, but that day in November 1998 he made his first trip to the northeast city of Jonesboro. Three months later, Arkansas State made its first and only trip to the NCAA Tournament.
"Kind of a neat twist," McCasland said.
McCasland and his players believed they would end the program's tournament drought this year, but they were an afterthought to the rest of the country. Then they went to Georgetown and won 78-72 in their third game of the season.
The Hoyas' NCAA Tournament chances are basically non-existent at this point, but they were tabbed fourth in the Big East preseason coaches poll. So Arkansas State naturally entered the national discussion, getting headlines on CBS, NBC and USA Today.
"We definitely loved that we were getting the attention that we were getting just because we were able to upset this big program and other people never would have thought we'd have a chance because of what [our] program has been through the past few years," Carter said.
The upset of Georgetown was the second of seven straight victories, a stretch that also included wins over Kenpom.com top 100 teams Chattanooga and Lehigh.
Though the Red Wolves have gone 5-5 since their 7-1 start, TCU and Minnesota -- NCAA Tournament teams, according to Joe Lunardi's most recent projections -- are responsible for two of the losses. Arkansas State also fell to Alabama on a neutral floor.
The Red Wolves have also dropped a pair of road games to conference foes Coastal Carolina and Appalachian State, but the numbers suggest this is the best team the program has fielded in quite some time.
Kenpom.com's efficiency data goes back to 2001-02, and Arkansas State has never finished a season ranked higher than 141st (2001-02). Last year's team ranked 252nd. This year's team currently ranks 116th.
With just five returning players, McCasland needed his team to gel during the offseason. He said he has hosted his team for dinners or general hangout sessions about 10 times since he took over in March, and they have incorporated other bonding activities such as a 48-hour retreat to a local campground. Even ordinary road trips adopt additional meaning, as McCasland took his team to the Lincoln Memorial during the trip to Georgetown and toured West Point before a game at Army.
The players credit those activities, at least partially, for the monumental turnaround.
"It helped tremendously because it makes you just want to play for guys even more," Carter said. "It makes you want to see guys get better even more because we've become so close."
Carter leads the Red Wolves with 16.6 points per game. He has made 56 three-pointers at a 38.9 percent clip. Donte Thomas' scoring has dipped from 11.2 to 8.8 points per game, but he leads the team with 5.8 assists per game.
Both seniors could have transferred when McCasland arrived, like Anthony Livingston, who left for Texas Tech. He averaged 15.5 points and 9.4 rebounds for the Red Wolves a year ago, and now he is a key piece on a power-conference team. His three-pointer late in overtime defeated West Virginia on Jan. 3.
"I'm proud of what he's done," Carter said. "He feels he made the right decision, but I also feel I made the right decision as well. "
So does McCasland.
Baylor has played such a critical role in his life. It's his alma mater, and Drew prepared him for his first Division I head coaching job over the last five years.
But those roots have eased McCasland's transition. He said he and Drew talk or text almost every day, and the man who recently coached Baylor to its first No. 1 ranking has provided encouragement through the ups and downs of McCasland's rookie season.
"He's always about the solutions," McCasland said. "That's what I appreciate about coach. That's where he's been a huge encouragement to me throughout this season. He's always kept where we're headed at the forefront of what we do."
Where are the Red Wolves headed? The NCAA Tournament, they hope.
"I know it sounds kind of crazy after winning 11 games [last year]," Carter said, "but that's just the mindset and culture that [McCasland] brought right out of the gate."