30
Jan
It was Time for a Change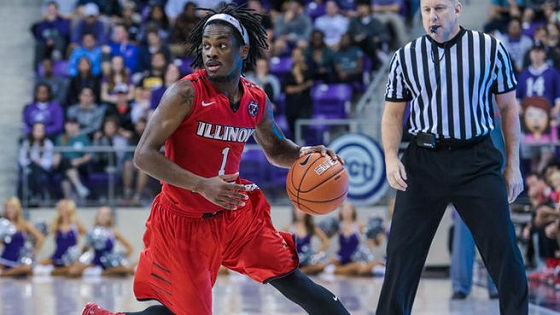 Paris Lee hopes to lead Illinois State to the NCAA Tournament for the first time since 1998.

In a chair at A.J. Styles Salon in Oak Park, Illinois, Paris Lee told Shavella Gunn he wanted the tips of his shoulder-length cornrows dyed red.
It was Thanksgiving Weekend, and Lee's senior season at Illinois State was off to a shaky start. The 6-foot guard was averaging 13 points, 5.7 assists and 1.7 steals, but he also turned over the ball 16 times as the Redbirds dropped two of their first three games.
Lee wanted a change.
At first, Gunn was incredulous. A 21-year-old basketball player wants red hair? But Lee insisted, so his hairstylist developed a color formulation that they named Redbird Red.
"It's an amazing look on him," Gunn said.
In many ways, the origin story of college basketball's preeminent hairdo shares themes with its visionary: creativity, confidence, persistence.
"He doesn't have all the good things other players have, but he gets the job done and he's going to give it his all," said Clarence Edward Lee III, Paris' older brother and a barber at A.J. Styles Salon. "As far as I could tell, he's as strong as the Eiffel Tower."
Since Lee returned to Normal, Illinois, with his red tips, the Redbirds have been nearly unbeatable. They have won 17 of 19 games and defeated MVC preseason favorite Wichita State en route to a 10-0 start in conference play. With the nation's No. 10 adjusted defensive efficiency rating, according to Kenpom.com, Illinois State has a chance to reach the NCAA Tournament for the first time since 1998.
Lee is averaging 12.9 points, 5.3 assists, 3.9 rebounds and 2.2 steals per game. He has reduced his turnovers to 2.8 per game, and is shooting a career-best 43.1 percent from long range.
"Everybody's important," Illinois State head coach Dan Muller said, "but Paris is the guy who probably impacts the game the most for our team and that's because he does it on both ends."
Lee has two stars and a solid supporting cast around him. Based on his efficiency ratings, Ken Pomeroy projects all-conference teams. His list of five MVC players does not include Lee, but Deontae Hawkins and MiKyle McIntosh rank second and third.
Such has been the case Lee's whole life.
When Proviso East High School reached the Illinois High School Association 4A semifinals his senior year, Lee averaged 10.4 points and 5.0 assists. But Sterling Brown (Southern Methodist) was a Mr. Basketball finalist, and Jevon Carter (West Virginia) led the team in scoring.
With the Mac Irvin Fire, Lee's defensive prowess and offensive creativity caught the attention of Dana Ford, the former Illinois State assistant and current Tennessee State head coach. But the 2012 roster included Brown, Kyle Davis (Dayton) and Marcus Lovett Jr. (St. John's) in the backcourt and Jabari Parker and Jahlil Okafor, who each made a pitstop at Duke on the way to the NBA, in the frontcourt.
"Sometimes I got caught watching in amazement," Lee said. "The things they used to do on the team, I would be like, man..."
But Lee played his role -- defend and create for others -- and played it well.
"If you watched him in AAU or high school, he would pick your pocket back then, so we thought he would be a great defender," Muller said. "We knew he would be unselfish because he was used to sharing the spotlight with guys. We knew he could play on and off the ball, and he was used to winning because of the programs he was in."
So, no, Lee does not complain that Hawkins and McIntosh lead the team in scoring.
"It just gives me confidence to know I have two players that can basically do it all," he said.
Lee does plenty himself. Since arriving on campus, he has started 119 of 122 games. He holds the program record with 231 steals and ranks sixth with 436 assists and 32nd with 1,099 points.
Depending on how long Illinois State can stave off elimination, Lee could crack the program's top five in three-pointers made, at the expense of Muller, whose 204 rank fifth. Lee's 150 rank ninth.
That would have seemed impossible after last season, when Lee shot 31.9 percent from deep to enter his senior year with 99 makes. But Clarence persuaded Paris to improve his jumper, and Paris accepted his older brother's advice.
After all, it was Clarence who would bring Paris to a local YMCA on Chicago's West Side for pickup runs years ago. The brothers, separated by six years, would play one on one if the gym was empty, and Clarence would always win.
Clarence, who played high school basketball, taught his brother to persist against the odds. The timeline is hazy -- Clarence says Paris was 12; Paris says he was a high school sophomore -- but Paris finally defeated his brother.
"All I know is something little and mighty hit me on the side, knocked me down, got the rebound, laid the ball up and just ran up and down the gym," Clarence said. "We were in the gym by ourselves, and he's like, 'I finally beat you! I finally beat you!'"
And after Lee's father, Clarence Edward Lee Jr., passed away in 2008, Lee sought basketball as a refuge. His game blossomed.
"He really went out there and used basketball as his getaway after our father passed away," Lee III said. "He channeled all those emotions and left everything on the court ever since then."
You won't find the 6-foot Lee in any mock drafts, even though Muller said he's one of the best defensive guards in the country. But if the NBA ignores Lee, he has the tools for a successful career overseas. In the spring, he will become the first male from his family to earn a college degree, so he also has a fallback for when his basketball career ends.
Clarence outed his brother as a pancakes addict. It's possible that Paris will use his first paycheck to treat his family to a meal or two at IHOP -- "You have to call it the International House of Pancakes," Clarence said. "He's really serious about his pancakes." -- but Paris has a larger goal in mind.
"My mom [Kimala Franklin] named me Paris because she wants to go to Paris," Lee said. "I want to be able to pay for my mom to go to Paris and enjoy herself. I don't know why she wants to go, but, hey, enjoy yourself."
For now, Franklin and the rest of the family can enjoy themselves watching Lee bound up court, his red tips smacking the back of his Illinois State jersey.
"It looks beautiful on ESPN," Clarence said. "That's all I can say."