16
Jan
Building a Winner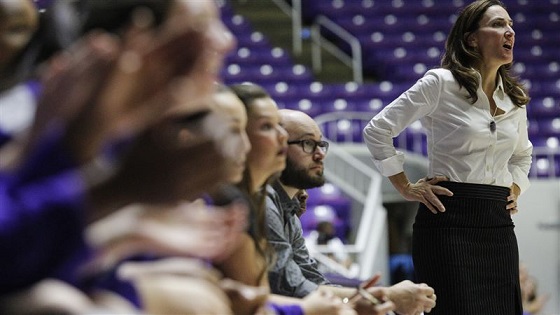 In 2016 Bethann Ord led Weber State to a 23-12 record and a trip to the championship game of the WBI
Bethann Ord was hired as the women's basketball coach at Weber State University in April 2011, challenged with rebuilding a program that had not won more than 10 games during each of the three previous seasons.
While the program achieved an incredible amount of success in 2015-16 with a 23-12 record, earning the program's first post-season berth in 13 years and winning four games to reach the WBI Tournament Championship game, Ord and her staff are working hard to build a consistent winner at Weber State.
Ord grew up in a family that was immersed in college athletics. Her father, Murph Shapiro, was an incredibly successful athletic director and men's basketball coach at Monroe Community College in Rochester, N.Y. Her mother, Annette, was the men's and women's tennis coach at Nazareth College.
"I grew up behind my father's bench and practices, admiring his fire and desire to teach and inspire young lives," said Ord. "My mom was a trailblazer because back then you did not see women coaching men's sports. She always showed amazing strength and work ethic. Coaching was always a family affair in our home and I try to keep that same mindset."
After finishing her playing career at Division I Maryland-Baltimore County, her desire to remain a part of the game led her into coaching.
"The passion for the game and an opportunity to impact young lives and be a part of their growth in reaching all their goals and dreams are the reasons I became a college basketball coach," said Ord.
Her first opportunity as a Division I coach came in 1990, working under one of her mentors, Pam Roecker, at Wagner College on Staten Island, N.Y. "Pam taught me every aspect of building and running a program," said Ord.
After two years at Wagner, Ord went on to serve as an assistant coach at several universities, including Pitt, under another mentor Kirk Bruce, Auburn, Tulsa and Colorado. In 2007, Ord arrived at the University of Louisville as an assistant under Coach Jeff Walz, who Ord said, "is an amazing basketball strategist and recruiter, with the ability to empower his players and staff."
In her four seasons at Louisville, Ord helped lead the program to three NCAA Tournament berths, including an appearance in the 2009 NCAA Championship game vs. Connecticut.
After 20 seasons as a Division I assistant, Ord had gained a tremendous reputation as a recruiter, helping three different programs sign a total of seven recruiting classes that ranked in the top-40 nationally, and with developing players, including coaching the first pick in the 2009 WNBA draft, Angel McCoughtry of Louisville, she decided it was time for her to lead her own program.
"Being a long-time assistant coach, I have been fortunate to learn from different coaching philosophies," said Ord. She took over a Weber State program in desperate need of a makeover, where she has been focused on student-athlete success on and off the court through, as Ord said, "formulating a positive environment where our young ladies could learn, grow and become the best versions of themselves on the court, in the classroom and in the community."
Establishing a culture of success resulted in a historical season on the court in 2015-16. Weber State won a program-record 23 games, earned the program's first post-season berth in 13 seasons and the program's first post-season win in 23 seasons.
Ord is not only attempting to replicate the success of 2015-16, but build on it. She feels she has the pieces to do it.
"We have a special group of young women who are very diverse and extremely close," said Ord. "We have some great weapons here and our expectations are extremely high for our 2017-18 team. Bottom line is, we want to win!"
Ord realizes her work at Weber State is far from over, but remains confident in the on and off-court culture that has finally been established.
"Since the day I walked on campus, every year we want to graduate our student-athletes and prepare them to be ready for the world," said Ord. "My focus has been to build a winning culture, where the big-picture goal is cutting down nets."