06
Feb
Standing Out in the Crowd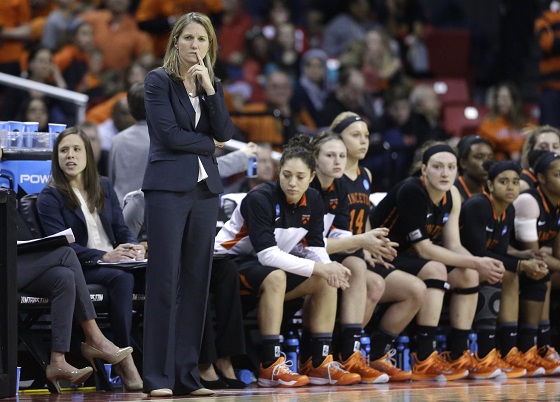 Courtney Banghart was a standout at Datmouth and now she is making a name for herself at Princeton.

Before becoming Princeton's Head Coach, Courtney Banghart knew the Ivy League well. She was a two-time first team All-Ivy League All-Conference selection at Dartmouth College, helping lead the Big Green to two Ivy League Championships as a player.
Following graduation, Banghart became an Assistant Coach at her alma mater, where she helped lead the program to two more Ivy League Championships. In 2007, this first-hand knowledge of what it takes to succeed as a student-athlete and coach in the Ivy League assisted in providing Banghart with a chance to lead her own program in the conference she knew so well, at Princeton University.
Banghart stepped on the Princeton campus taking over a program that had never won an Ivy League Championship. That though would be short lived, as she led the Tigers to their first Ivy League Championship three years later. Since Banghart took over, Princeton has won 208 games, five IVY League Championships, and earned six NCAA Tournament berths.
How did Banghart achieve this success? According to her, it starts with those she surrounds herself with. This includes both her players and coaching staff. "I've hired really good people. That's a non-negotiable," said Banghart. "I've also recruited people I want to coach, not just talent that I'd like to have on my roster."
One thing that has always stood out with Banghart's teams has been their challenging non-conference schedule, a strategy of Banghart since she stepped on campus back in 2007. "I've always committed to scheduling the most challenging opponents I can," said Banghart. "I learn the most in competitive opportunities, not in easy wins. I understand that trust is built by doing something difficult together. And my team understands where I think we can be, by who I schedule in the non-conference."
Banghart's success has been recognized well-outside the conference, as she was named an Assistant Coach for the 2017 USA Basketball Women's U23 National Team and Forbes named her one of the World's 50 Greatest Leaders in 2015. "I dare to be great, respecting the challenges, but committed to growth, with consistency and optimism every day," said Banghart.
Amongst some of the nation's brightest scholars at the nation's top University, Banghart's hard work and motivation has allowed her to stand out.