27
Feb
Building Tradition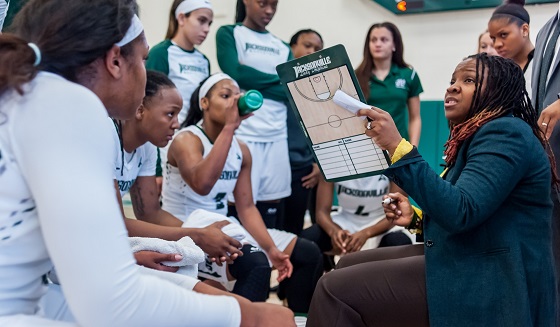 In 2002 Yolett McPhee-McCuin became the first Bahamian female to earn a Division I basketball scholarship,

When Yolett McPhee-McCuin was named the Head Women's Basketball Coach at Jacksonville University in 2013, she was tasked with rebuilding a program that was not only coming off three straight losing seasons, but also lacked a history of success. She got right to work and hasn't stopped moving since. With a focus on player development, recruiting, and a "No Ceilings" mentality, she has led Jacksonville to many "firsts".
"We've really focused on making sure the standards of the program are followed on and off the court, which is the basis of our "JU WAY" culture," said McPhee-McCuin. ""No Ceilings" simply means that whatever you want to accomplish for yourself and this team at Jacksonville, with hard work and good surroundings it can be done."
Four core values have played a role in the program's growth; accountability, worth ethic, transparency, and energy-givers, which has resulted in three straight 21+ win seasons after two seasons of rebuilding. This growth has resulted in leading McPhee-McCuin leading Jacksonville to the first Atlantic Sun Championship and NCAA Tournament berth in program history.
McPhee-McCuin's impact on the game extends beyond Jacksonville and back to her home country of the Bahamas, as both a player and coach. In 2002, she became the first Bahamian female to earn a Division I basketball scholarship, playing two seasons at the University of Rhode Island. In 2015, she was offered the opportunity to become the Head Coach of the Bahamian Women's Basketball National Team. That year, she led the team to its first Caribbean Basketball Confederation Championship in 10 years and has guided the team to a 12-4 (.750) overall record.
In addition to mentoring young women, McPhee-McCuin has learned a lot in her role with the National Team that has shaped how she coaches her Jacksonville team. "I think that the National Team experience has open me up to different styles of play and schemes on both ends of the floor," said McPhee-McCuin. "The National Team also allows me to come up with unique ways to implement a system in limited time; which I think is important in preparing for a college season. Also, working with the 24 second shot clock has helped me increase the pace of our offense with our team."
While balancing the responsibilities as the Head Coach of both teams, McPhee-McCuin also ensures she finds time for family, which is an important part of her program. McPhee-McCuin and her husband, Kelly, have two children, Yas and Yuri, who all spend a lot of time around her team. "We do a lot for our team by our home and my family accompanies us on as many away trips as possible," said McPhee-McCuin. "I think it is important for our players to see a mother that is a professional. I want them to see that they can have both. My family has taken our players in as our own."
McPhee-McCuin has worked hard to rebuild the Jacksonville program and lead it to numerous "firsts". While she has done all this while balancing her role as a mother and wife, she is showing no signs of slowing down.