30
Jan
Knight Time in Williamsburg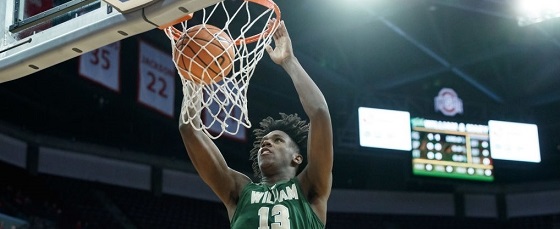 William & Mary's Nathan Knight was named to the Lou Henson Award Mid-Season Watch List.

VIDEO: Nathan Knight was recently profiled in "Off the Bounce." CLICK HERE to watch.

Nathan Knight began the journey from promising prospect to potential pro in the fall of 2015 during his post-graduate year at Kimball Union Academy.
Months earlier, the William & Mary coaching staff identified Knight, a Syracuse, N.Y. native, as its primary frontcourt recruiting target. He was raw and out-of-shape but at 6-foot-9 was blessed with exceptional hands, a 7-foot-3 wingspan and tremendous instincts on both ends of the floor.
The Tribe staff evaluated Knight through the spring and summer AAU season. That fall, assistant coach Jonathan Holmes headed to the idyllic Kimball Union campus in the tiny town of Meriden, NH near the Vermont border.
The courtship started with a fizzle rather than a bang.
"My first encounter face-to-face was him getting on a school bus and waving to him as he went off campus to a science class or something," Holmes recalled. "That was our first interaction … so I remember thinking, next week has got to be better, right?"
The relationship between Knight, his mom, Joslyn and the Tribe staff grew stronger after the inauspicious start. Holmes made regular trips north to visit. Other programs began showing serious interest in Knight, seeing the promise and knowing he'd improve in a year under veteran Kimball Union coach Mike Olson. Eventually, he ended up with 30 scholarship offers.
But Knight scheduled an official visit to William & Mary in October and two days after it ended he gave the staff a verbal commitment. The Tribe had the No. 80 power forward in the class, per ESPN, and more importantly a centerpiece who fit perfectly in their 4-around-1 system.
"I liked Williamsburg when I first saw it," Knight said. "It was very suburban and homey. My boarding school was secluded up in the hills and it reminded me of it. It's a beautiful campus."
As Knight's sophomore season unfolds, it's obvious the Tribe got a steal and a star in a marriage that suits both sides. Knight has dropped more than 50 pounds to a comfortable playing weight of 235 and flashed a diverse skill set growing by the game.
In Colonial Athletic Association conference games, he ranks in the top six in scoring (18.3 ppg), rebounding (8.3 rpg), shooting (58.7 pct.) and blocked shots (1.6 bpg).
William & Mary coach Tony Shaver and the Tribe staff loved Knight's versatility from the outset. They envisioned moving him around the court - putting him in the paint and surrounding him with 3-point shooters but also sliding him to the perimeter where he could hit jumpers or create shots for others - and have followed the plan. They shared the vision on his official visit, showing Knight the myriad ways he could develop and use his skill set.
"He's reaching a point, where we think he can play the 4 spot for us there's no doubt in my mind about that," Shaver said. "He's a great decision maker, a great passer. We want to continue to evolve how we use him."
Charlie Woollum has been a part of Tribe basketball from every angle. He played at the school from 1959 to 1962 was head coach from 1994 to 2000 and for the last decade has served as the color analyst on the program's radio and internet broadcasts.
He's been impressed with Knight's steady progression.
"He has a chance to be real special," Woollum said. He has all the physical tools and he likes to play. All those things are great and important to being good. It's fun for me to watch because I think he has a chance to be as good of a big guy as they've had here. He's a very talented youngster who enjoys what he's doing."
The best big man in CAA history was Navy star and NBA legend, David Robinson, known as The Admiral. Around these parts, or at least down certain avenues on the internet, folks have started referring to Knight as, "The Commodore."
There was no denying the talent and Knight's warm, engaging personality when he arrived at Kimball Union. There was also no denying he was out of shape and still an infant on the basketball court. He'd transitioned to the sport from baseball after an eight-inch growth surge between the spring of his freshman year at Nottingham HS in Syracuse and the following fall.
Knight also grew up under tough conditions in Syracuse, relying on strength and support from his mom, Joslyn.
"A post-graduate year can do wonders for a young man in his situation," Olson said. "He lacked basketball, academic and social confidence. The fact he was able to build some strong relationships here was a tremendous help. He learned to trust his coaches, teachers and make some friendships. It was a very advantageous year. He had to feel better about himself and as he started to feel better about himself it translated into the classroom and onto the court."
Holmes and the Tribe staff built the relationship around honesty and openness. The value of a William & Mary degree impressed Knight and his mother. Olson was familiar with Tribe coach Tony Shaver and his staff because he'd recently sent another player - Oliver Tot, a senior on this year's team - to continue his career there.
"You could see the immense potential but at that point that's really all there was. He wasn't consistent. He didn't really know how to play hard. He didn't have the stamina to play hard," Olson said. "This was really a guy that needed to learn how to be a champion not only on the court but off … how to study, eat and improve his communication skills w/ faculty and colleagues."
Olson knew what Knight needed from a coaching staff.
"Someone who could push him hard, understand the concept of tough love, they did understand that," Olson said. "Nathan needed hand holding and high fives with a kick in the butt on a fairly regular basis."
When Knight departed Kimball Union en route for Williamsburg, there was joy across the campus, he said. The faculty and staff was thrilled by how far Knight had come and how far they thought he could go.
Knight's development accelerated in the summer of 2016 prior to his freshman season at William & Mary. Through daily workouts with assistant Austin Shaver and relying on his newfound discipline, he began assembling the tools to score 14 points at Louisville in his second college game, 11 points at Duke and make the All-CAA rookie team despite playing less than half the game.
Gone were lazy afternoons on the couch eating Chinese food and playing endless hours of video games. In their place, were workouts, better nutrition and a relentless work ethic to capitalize on his opportunity.
"When we first saw him play we knew the talent was there," Holmes said. "But the question was, 'is the work ethic and commitment going to be in place, the motor, the daily drive to be better?' To his credit, to the day since he finished at Kimball Union, he's been a man on a mission. He's shed 35 pounds, worked with Austin on skill development. He got a taste of success last year and the drive has only increased. He's worked his tail off and seen the hard work translate almost immediately on game day."
Knight moved from supporting role to the starting lineup when center Jack Whitman opted to leave the program after last season.
He seized the opportunity. He poured in 31 points against Hampton and Marshall in the first month of the season. There was a 31-point, 11-rebound outburst and game-saving block in a spirited win over Hofstra. Double-figure scoring has come in 18 of 19 games. At Elon in mid-January, he started slowly but hit a 15-foot jumper, 3-pointer and two free throws in a 2:15 span to ignite a late comeback victory.
He's scoring around the basket, honing his touch with a specific pregame workout that starts an hour and 40 minutes before tipoff. Each game he reveals another weapon in his arsenal. Delivering consistently is the next phase in his evolution. When he picks up a foul by being out-of-position on defense or is pushed off the block by a stronger, more determined defender, it becomes clear why Shaver believes Knight is only scratching the surface of what seems like limitless potential.
"He has a great awareness of when he's good and when he's not," Holmes said. From a developmental standpoint that's very important, that reality check."
Of course, in this era of college basketball, the obvious question is not necessarily how did Knight end up at William & Mary? Evaluating the top 100 power forwards in his Class of 2016 reveals that schools in high major conferences gobble up the highest ranked big men with hardly any exceptions. The upper tier (Harry Giles, Bam Adebayo, Lauri Markkanen) moved on to the NBA after one season in college. There are starters, reserves, injury-plagued and transfers sprinkled through the remainder of the top 100, but with few exceptions Knight has out-produced most players ranked 31-79 in the class.
So, the question remains, will he stay at William & Mary? It's a question that crosses Shaver's mind, but he's not concerned.
Knight, who plans to enter the college's esteemed business school next year and has a serious girlfriend at W&M, is comfortable on campus. He's a fan favorite in the community and is enjoying his current career arc.
"I don't plan on leaving this school," he said. "The degree from here, it's a great school, plus the camaraderie I've built here. I don't think I'll be able to build that anywhere else, the quality of friends that I have here and quality of the coaching staff I don't think I'd find at many other schools and I don't plan on going to look for it. My role would be different and I like my role on this team."
Part of his plan includes leading William & Mary to the NCAA tournament for the first time in school history. Surrounded by sharpshooters, Knight is the key interior cog in the CAA's most efficient offense. The Tribe, in a three-way tie for first at 7-3 entering this weekend, is one of five original Division I members that's never participated in March Madness. It has been close, so close during Shaver's tenure, losing in the CAA championship game four times since 2008.
Consider this hyperbole if you must, but let's be clear: Any coach or player on the team that finally breaks through to the bracket will become a instant and eternal legend. They'll never buy another meal in Williamsburg.
"You have to speak it into existence," Knight said, when asked if the team discusses the ultimate goal. "I think about being a pro down the road. But I want to take us to the tournament."
Tribe fans have enjoyed this journey so far. They hope this is only the beginning.