19
Mar
The Trials and Tribulations of Kentucky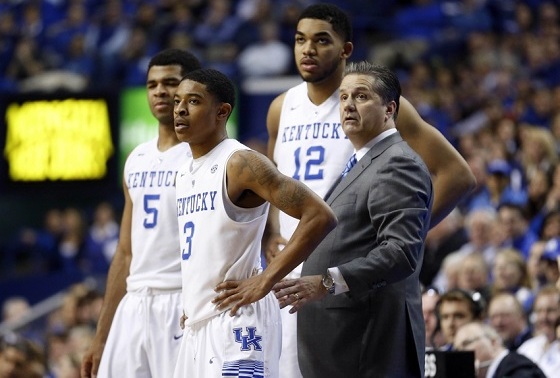 Throughout the college basketball regular season, I've found myself, like so many other fans of the sport, absolutely entranced by Kentucky. Kentucky games have been must-see-TV, and so often they've played out completely different than one would expect. The Wildcats at times look like they're toying with the nation, yet other times they look like Florida State's football team - pulling out close wins against lesser competition, while masking weaknesses that could come back to haunt the team against the elite.
Thrashing supposed heavyweights like Kansas and Arkansas? Sure.
Slow, methodical pull-aways against clearly inferior opponents like Buffalo, Boston University, and Columbia? Why not.
Shockingly close games against middling NCAA/NIT teams like Ole Miss, LSU, Texas A&M, and Vanderbilt? Against all rhyme and reason, yes.
Yet, on the eve of the NCAA tournament, the Wildcats' shadow hangs ominously over the entire bracket, with many experts conceding that anything short of a Wildcat title would be a monumental upset.
While I agree with the consensus that Kentucky is and should be the favorite, I struggle with putting in context just how big a favorite the Cats really are. The star-studded non-conference schedule designed to test the team early and often proved to be somewhat of a dud, as North Carolina, Texas, and Louisville turned out to be overrated. Even Kansas has lost 7 times in addition to the Kentucky game, including a 25-point beating at NIT-bound Temple. This was not a vintage Bill Self Kansas team (and yes, I think the Jayhawks will lose to sneaky-good tournament veterans New Mexico St in the first round, but that's another story). Thanks to a confluence of SEC tournament upsets, the Wildcats didn't even have to match up against any of the teams that truly pushed them in conference play – no Georgia, no Ole Miss, no Texas A&M, no LSU, and no Vandy. So the question remains – exactly how good this Kentucky team?
If things play out the way the NCAA tournament often does, much like 2009 Champion North Carolina, the Wildcats may never have to find out. Those Tar Heels, led by Tyler Hansbrough and Ty Lawson, ran roughshod on the NCAA tournament, destroying every opponent by double digits and only feeling slight heat in the second round against LSU. It was a merciless undressing of 6 teams, but were the Tar Heels really that good, or did they just happen to not play anyone with the specific personnel needed to beat them? Contrast that scenario with the 1997 Kansas Jayhawks, an NBA-talent laden powerhouse that lost but a single game – by 2 in double OT – the entire season, only to run into the perfectly equipped Arizona Wildcats in the Sweet 16. Or the 2002 Duke Blue Devils, a repeat candidate with a bevy of NBA talent, felled in the Sweet 16 by an upstart Hoosiers team on the way to the Final Four. The truth is, you don't ever really need to beat 'the field', you just need to win the six games you have to play. Sometimes we forget this.
So is this Kentucky team one for the ages? One destined to complete a 40-0 season and be mentioned alongside the greatest teams in the history of the sport? Time will tell. For now, the debate on whether or not they can be beaten will continue. As we consider both sides, here are a few observations on how Kentucky could be beaten:
1. Forget about platoons, the reality is Karl-Anthony Towns is the key to everything Kentucky does, and he plays extended minutes in close games. That is, when he isn't fouling out, which he's done six times this season. Wanna beat Kentucky? Go hard at Towns, with pump fakes. Get him in the air! He's notorious for silly early fouls. Kentucky's go-to offensive play is Towns on the block, either scoring or passing out of the double team. Not only is he spectacularly effective, he's also quietly become an excellent free throw shooter (90% in his last 10 games!). Your best bet? Get him to pass of to Cauley-Stein and Johnson, and foul them.
2. Kentucky is much more scary when Devin Booker is on a hot streak. During a seven game stretch this year, from UNC to Alabama, Booker looked like the next Kyle Korver - he simply couldn't miss from three. Aside from that immortal 20-28 stretch (71%!), Booker is a pedestrian 35% from 3, and hasn't looked nearly as devastating. If Booker recovers his sensational shooting form and goes on another streak, forget it, no one is touching Kentucky. But if he's simply regressed to the mean, there is hope for any team looking to zone the Cats and force them to win the game through shooting.
3. A final thought on Calipari's Cats. I do think they are more vulnerable to an East Coast/Midwest brand of physical, rugged basketball more than other styles. The evidence is compelling - in the Calipari era, Kentucky has lost in the NCAA tournament to UConn twice, and once to West Virginia (then a Big East member). In the NIT, they lost to Robert Morris. In that same period, they've beaten, often quite badly, a host of teams from other major conferences. It may be a coincidence, but what if it isn't? If the Notre Dame-Kentucky game happens, and the Irish win, it will be yet another indication that the key to hanging with, and ultimately beating the Wildcats, may be stylistic as much as talent-driven.