Apr 13, 2023
Great to see Tom Pecora get another opportunity to run his own program, after Baker Dunleavy decided to step down at Quinnipiac and return to Villanova. Dunleavy did an excellent job in his six seasons at the helm, capped off with a 20-12 season. Iona, Manhattan and Siena are traditionally the teams to beat in the Metro Atlantic Athletic Conference, but Dunleavy did a terrific job of keeping Quinnipiac in the mix.
Apr 03, 2023
For those of us living in the northeast, UConn's run through the tournament is not surprising. It was evident early in the season that Danny Hurley's team had a chance to be very good. UConn did hit a few bumps in the road and the Big East was clearly better than most of the experts thought, but they were ready once the NCAA Tournament began. Stonehill head coach Chris Kraus got an early glimpse of what was to come...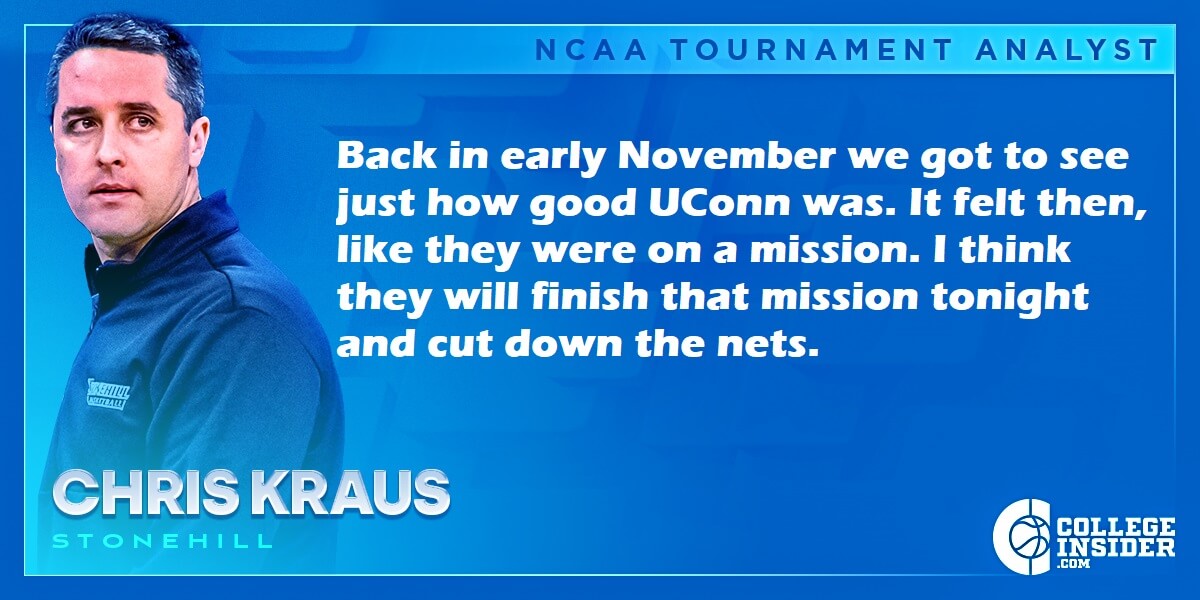 CLICK HERE to see commentary from over 70 Division I coaches on Twitter.
Mar 31, 2023
Before he took over at North Texas, Grant McCasland led Arkansas State to one of its best seasons in nearly 20 years, finishing in 2016-17. And at North Texas he won a lot. He posted 20 or more wins in five of his six seasons. The one season in which he only won 18 games, the Mean Green went to the NCAA tournament and knocked off Purdue. All he did this year was win 31 games and the NIT. Fantastic hire by Texas Tech!
Mar 27, 2023
It will be great to see John Gallagher back on the sidelines next season. His overall win-loss record may not indicate it, but he did a fantastic job at Hartford. His teams were always tough and well coached. Unfortunately, Hartford's decision to move out of Division I led to Gallagher's departure, but most people in the industry didn't think he would be unemployed for long. He's an excellent coach and he will win at Manhattan.
Mar 16, 2023
Denver head coach Jeff Wulbrun is right about Rodney Terry. What a job he has done in a very difficult situation...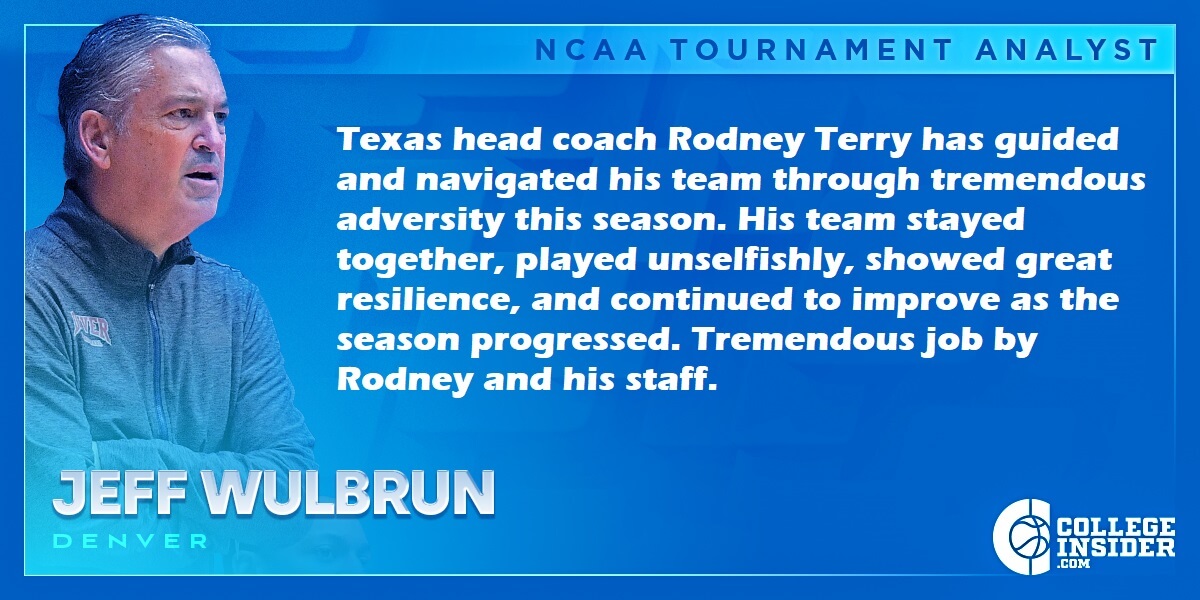 CLICK HERE to see commentary from over 70 Division I coaches on Twitter.
Mar 04, 2023
Pat Skerry has consistently done more with less. After a very tough start at Towson, Skerry has posted eight winning seasons, four 20-win campaigns, a 25-win season and, the program's only two division I postseason wins. Exellent coach and a great person.
Mar 03, 2023
Queens opened its' division I era with a win over Marshall (currently ranked No. 14 in the Mid-Major Top 25®) and went on to win 18 games including a W in the ASUN tournament. Outstanding first season for Grant Leonard and the Royals.
Mar 02, 2023
Eric Duft has done a really nice job in his first season, taking over the the retired Randy Rahe. An assistant for 16 seasons under Rahe, Duft had led Weber State to a 12-6 mark in the Big Sky and a No. 3 seed in the conferecne tournament.
Feb 25, 2023
Prior to Griff Aldrich, Longwood had won a total of 23 games in six seasons in the Big South Conference. In five seasons under Aldrich, the Lancers have 50 conference wins. Longwood also had only one winning season, since making the move to division I. Aldrich won 26 games last seaason and last night he reach 20 wins again.
Feb 24, 2023
Southern Miss (24-6) has the third most wins in program history. Before he ever coached a college game, head coach Jay Ladner won over 500 games as a high school coach. He should get some votes for National Coach of the Year honors.
Feb 23, 2023
Stetson's win over Austin Peay last night was No. 17, which matches the most wins in a season in over 35 years. The 12 conferecne wins are also the most in 35 years. Head coach Donnie Jones has done a terrific job.
Feb 22, 2023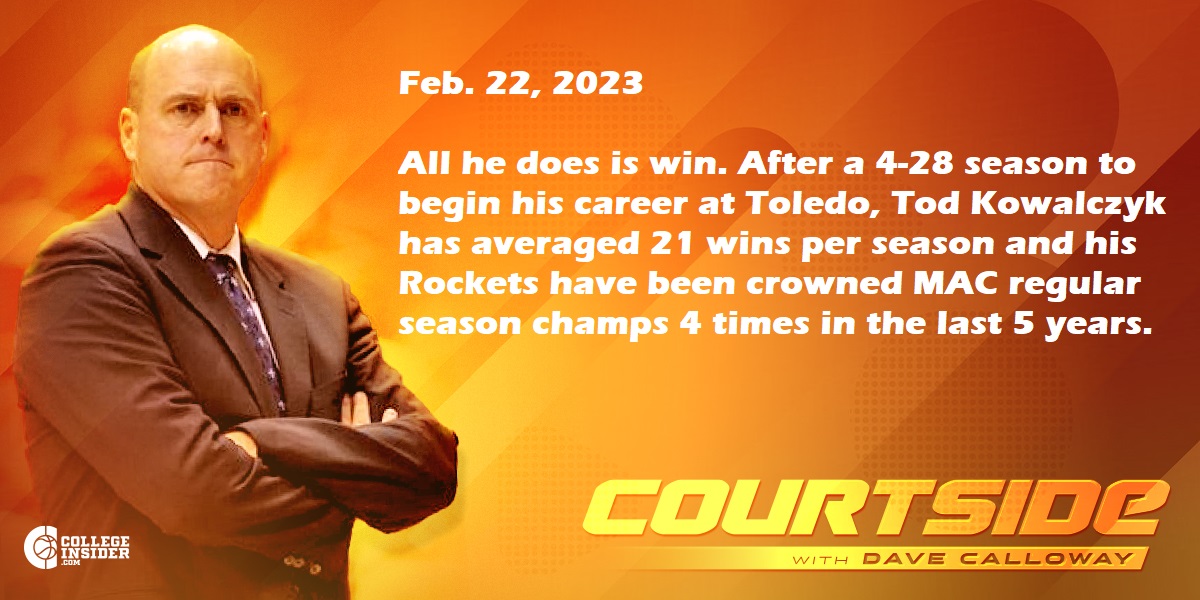 CLICK HERE to check see more from Dave Calloway and other members of the College Insider staff on Twitter.
Feb 21, 2023
With an 11-18 record it may not seem like it, but head coach Gerald Gillion has done a heck of a job at Chicago State. The Cougars have posted some nice wins and are a hanful of possessions from being .500 or better. Great job Coach Gillion.
Feb 20, 2023
Congratulations to Boston University head coach Joe Jones who picked up career-win No. 200 over the weekend. The three-time Ben Jobe award finalist and two-time Skip Prosser award nominee is one of the best people in the business.
Feb 19, 2023
Regardless of what happens this week, Chris Kraus deserves some attention for the job he has done in Stonehill's first season at division I. The Skyhawks, who have challenged for the NEC regular-season challeng, are 10-5 and alone in 2nd place.
Feb 17, 2023
Samford has never won a Southern Conference regular-season championship. With three games remaining, the Bulldogs hold a one-game lead. It will likely come down to the regular-season finale against Furman. And with one more victory, Samford will post back-to-back 20 win seasons for the first time in 20 years. Remember the name Bucky McMilllan. He can coach.
Feb 16, 2023
Ed Conroy picked up the biggest win in his second stint at The Citadel, beating Furman on Wednesday night. In 2009 Conroy led the Bulldogs to 20 wins and the program's only trip to the postseason in 100 years. Ed Conroy can coach.
Feb 13, 2023
What a job Tim Miles is doing at San Jose State. The Spartans, who are currently 15-10, haven't had a winning season in over a decade. They call him 'Coach FEMA' because he's only brought in to clean up a disaster.
Feb 12, 2023
Gardner-Webb started 0-4 and was 2-7 in early December. The Bulldogs are currently riding a 7-game winning streak and sit two games out of 1st place in the Big South Conference. Tim Craft continues to fly under the radar. He's an excellent coach.
Feb 09, 2023
The Louisiana Ragin' Cajuns are top 5 in the nation in road wins and Southern Miss is undefeated at home this season. Both teams are ranked in the Mid-Major Top 25® and they will meet tonight on ESPN+ at 8:30 pm EST.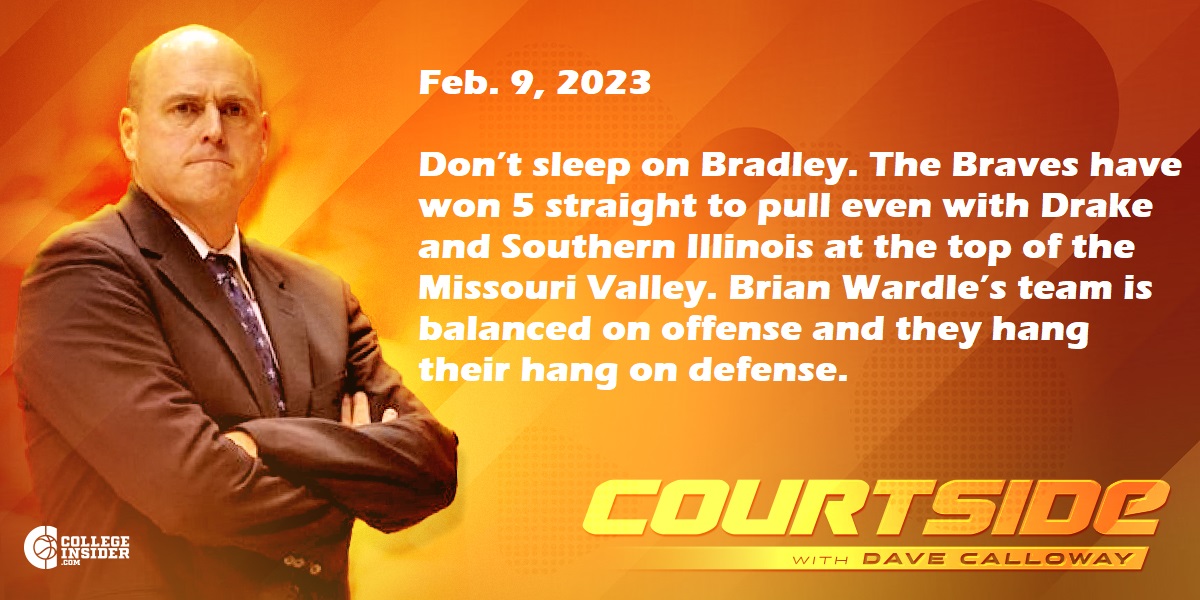 CLICK HERE to check see more from Dave Calloway and other members of the College Insider staff on Twitter.
Feb 06, 2023
The Rider Broncs are one of the hottest teams in the country. Winners of seven straight, they are alone in 1st place in the MAAC. Former Incarnate Word transfer Dwight Murray Jr. leads the way for head coach Kevin Baggett. They are efficient on offense and make their free throws.
Feb 01, 2023
When Ryan Ridder took over at UT Martin, the 'entire team' was in the transfer portal. One season later the Skyhawks are 15-8 and tied for first in the Ohio Valley Conference. Ridder was the 2018 Joe B. Hall award winner, after guiding Bethune-Cookman to a regular-season conference championship. He's a terrific young coach.
Jan 30, 2023
It took a couple of years, but Kenny Blakeney has Howard among the elite in the MEAC. The Bison have won five straight and are tied for 1st place. Howard hasn't posted back-to-back winning seasons since 1985-86 and 1986-87. Nearly 20 years ago he was an assistant for Mike Brey at Delaware. He has paid his dues.
Jan 27, 2023
In the last four-plus seasons, Ritchie McKay is 121-33 at Liberty. That run includes multiple trips to the NCAA tournament, a win over Mississippi State and a National Coach of the Year award. But this season might be the best job he has done yet, as the ASUN is as good as it's ever been.
Jan 26, 2023
They took a different route this season, but Vermont is where it usually is heading into February… In 1st place. Perennial NCAA Tournament contenders, the Catamounts were 2-7 at one point. Wednesday's win put them above .500 for the first time since opening night. Head coach John Becker just wins.
Jan 25, 2023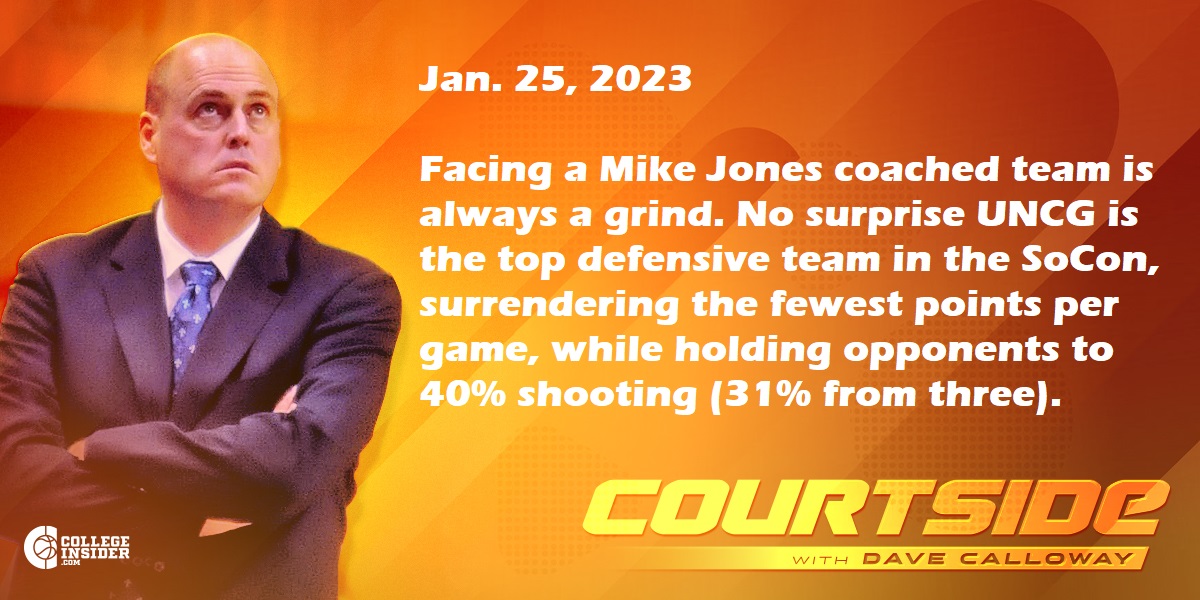 CLICK HERE to check see more from Dave Calloway and other members of the College Insider staff on Twitter.
Jan 23, 2023
You don't have to just make threes to win basketball games. Over the weekend Eastern Kentucky was 2-for-14 from deep against Austin Peay but won 74-59. The Colonels are 6-2 and in second place in the ASUN. A.W. Hamilton is an excellent coach.
Jan 17, 2023
It's really impressive what Grant McCasland has done at North Texas. After one season at Arkansas State, in which he won 20 games, McCasland has completely turned things around in his five-plus seasons in Denton, TX. He's averaged over 20 wins per season and he's well on his way to another 20-win campaign.
Jan 13, 2023
Big win for Milwaukee on Thursday against NKU to improve to 6-1 in the Horizon League. First-year head coach Bart Lundy has done a really nice job. Lundy returned to division I this season, after leading Queens University to seven straight trips to the division II NCAA tournament. This was an under the radar hire.
Jan 08, 2023
UNC Asheville improved to 3-1 in the Big South, knocking off Campbell last night. Mike Morrell has very quietly made strides in each of his first four seasons. Drew Pember, now in his second season after transferring from Tennessee, has emerged as one of the top players in the Big South and beyond. The Bulldogs have a big test this week against the defending conference champions, Longwood.
Jan 05, 2023
Furman head coach Bob Richey is trying to do something that hasn't been done since 1980 and that's getting the Paladins to the NCAA Tournament. Since he took over, at the end of 2017, Richey has consistently had Furman in the mix in the Southern Conference. The Paladins, which have 4 of the next 5 on the road, might be the team to beat in the SoCon.
Dec 30, 2022
VCU opens Atlantic 10 play on Saturday against La Salle. Head coach Mike Rhoades has done a nice job following all the success that Shaka Smart and Will Wade had, in which they took the Rams to seven straight trips to the NCAA Tournament. VCU made a trip to the Final Four and posted multiple tournament wins. Keep in mind that the landscape is much different now. When Smart took VCU to the Final Four, the Rams were one of four teams from the Colonial to make the NCAA tournament.
Dec 21, 2022
UConn, which is off to a 13-0 start, certainly looks like one of the best teams in the Big East this season. It's easy to forget that this program spent seven seasons in the American Athletic Conference. Danny Hurley has done a nice job since taking over. He has the Huskies trending towards Big East supremacy.
Dec 19, 2022
Last week we lost a truly great individual. Louis Orr was one of the best representatives of our game. Anyone who knew him would speak volumes about him as a human being. The Good Lord just brought in a great man to sit beside him on the Holy Bench!
Dec 13, 2022
Yale's James Jones continues to win. He's had just one losing season in the past eleven, and he's averaged 19.5 wins during that stretch. One constant has been defense. And once again the Bulldogs are among the top defensive teams in American, holding opponents to 57 points per contest. There is a lot of basketball to be played, but it feels like the Ivy League will come down to Yale and Princeton again.
Dec 13, 2022
Pat Duquette and his staff have done an outstanding job. UMass-Lowell is ranked third nationally shooting 51% and are top 10 in field goal percentage defense at 36.5%. They are efficient on offense, they defend, and they rebound. Not many second-chance opportunities against the River Hawks.
Dec 12, 2022
After dropping the first two games of the season, American has run off seven straight wins. The Eagles top six average eight or more points per game, led by Matt Rogers (13 ppg and 6 rpg). Head coach Mike Brennan has done a lot of winning in his 10 seasons at American.
Nov 28, 2022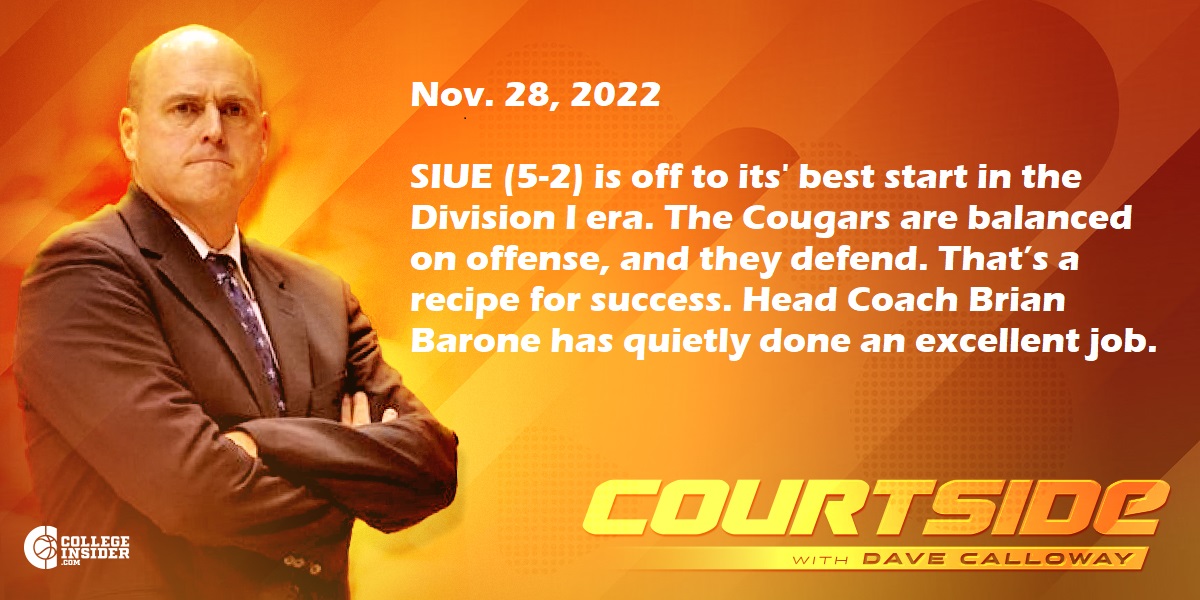 CLICK HERE to check see more from Dave Calloway and other members of the College Insider staff on Twitter.
Nov 26, 2022
How about Jared Grasso and the job he has done at Bryant. First ever appearance in the NCAA Tournament last season, preseason Mid-Major Top 25® this season and a 5-1 start with a win over Syracuse at the Carrier Dome. Look out America East Conference. The newest member of the league will challenge Vermont.
Nov 21, 2022
What a wild finish on Saturday afternoon. Gardner-Webb picked up its first win of the season by closing the game on a 22-2 run against North Carolina A&T. He doesn't get a lot of national attention, but Tim Craft is an excellent coach.
Nov 18, 2022
Quinnipiac is off to its best start since the 1969-70 season. Head coach Baker Dunleavy, who returns five of his top seven scorers, has added some nice pieces via the transfer portal including Ike Nweke (Columbia). Traditionally, Iona, Manhattan and Siena have been the teams to beat in the Metro Atlantic Conference, and Dunleavy is building a program that can compete with those teams, on an annual basis.
Nov 17, 2022
Colgate, which has been playing basketball for nearly 125 years, is in the midst of the best five-year stretch in school history. Three 20-win seasons and three trips to the NCAA Tournament. The three 20-win seasons are the ONLY 20-win seasons in program history. Matt Langel should be mentioned more by the talking heads.
Nov 15, 2022
Rob Senderoff doesn't get nearly enough credit for the job he has done at Kent State. Now in his 12th season at the helm, Senderoff has won 20 or more seven times and he's NEVER had a losing season. Over a decade as a head coach and he's NEVER had a losing season! The Mid-American Conference is going to be a tough again this season, but you can expect Senderoff's team to be there at the end.
Nov 08, 2022
Getting your first win is always memorable. Getting your first win on the road, at Temple, when you are down 15 late, is special. Congratulations to Wagner's first-year head coach Donald Copeland. Remember, after winning 21 games a season ago, Bashir Mason left for Saint Peter's, which opened the door for Copeland to return to Wagner. He spent six seasons under Bashir Mason.