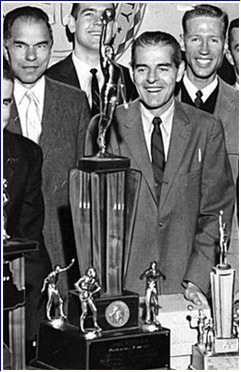 BASKETBALL GURU: Pete Newell Story
Pete Newell's legacy in the sport of basketball is a big part of the game's modern day history and is a compelling story that many continue to embrace. Experts throughout basketball circles would argue that Coach Pete Newell has had the single biggest impact on the sport next to its inventor, Dr. James Naismith. Known by many as the Basketball Guru, Pete Newell's influence on teaching principles and coaching philosophy is a big part of what has made the game so popular worldwide.
Basketball Guru: The Pete Newell Story is a 75 minute documentary produced and directed by award winning documentary filmmaker Doug Harris, in conjunction with AUP Media. This heartwarming story, as told by an extremely powerful cast of basketball personalities, chronicles the life story of a man who possessed the most brilliant mind for teaching and coaching basketball, of all time. Although his coaching career in college basketball lasted a brief 14 years, the late Pete Newell found his way into the Naismith Memorial Basketball Hall of Fame as the first coach to win the coveted "triple crown" (championships in the N.I.T., NCAA and Olympic Games). More important than his accomplishments as a coach, Newell had a significant impact on the lives of some of the game's greatest coaches, players and NBA executives ever involved in the sport. During a career in basketball that spanned seven decades, many of Newell's concepts and principles are commonly viewed as standard operating procedure for today's basketball players, coaches and executives.
Basketball Guru explores Pete Newell's life through the voices of his many disciples from the college and professional ranks, all of whom were all a big part of his extended basketball family. Never one to bask in the limelight or blow his own horn, Pete Newell was always interested in helping the game grow to new heights. Whether it was leading college teams to their first championships or helping NBA players develop sound fundamentals and footwork, Pete Newell was a true friend to the game. The number of people he mentored and guided is unparalleled. Bobby Knight, college basketball's all time wins leader, was an early protege of Newell's dating back to his days as a young up and coming coach at Army. Mike Krzyzewski, another Newell protege, received tutelage in his early years when building Duke University into the premiere NCAA program in college basketball.
Pat Riley, NBA Miami Heat president and former coach of the Los Angeles Lakers, regularly sought Pete Newell's advice during his run of five NBA championships in the 1980s. The film's look into Pete Newell's NBA career, as a general manager, finds that he was responsible for building the foundation of what was to become the Los Angeles Lakers' "Showtime" era. One of the highlights of Basketball Guru tells the account of Pete Newell's greatest gift to basketball, his Big Man's Camp. For 32 years, after retiring from the day to day rigors of being an NBA general manager, Pete returned to the gym to provide training and group instruction to many of the NBA's greatest centers and forwards. The list of players and young coaches involved in his camp over the decades reads like a Who's Who list throughout the NBA and internationally.
The legacy of Pete Newell, and the icon he became in the sport of basketball, is all found here in this historic landmark documentary film, Basketball Guru: The Pete Newell Story